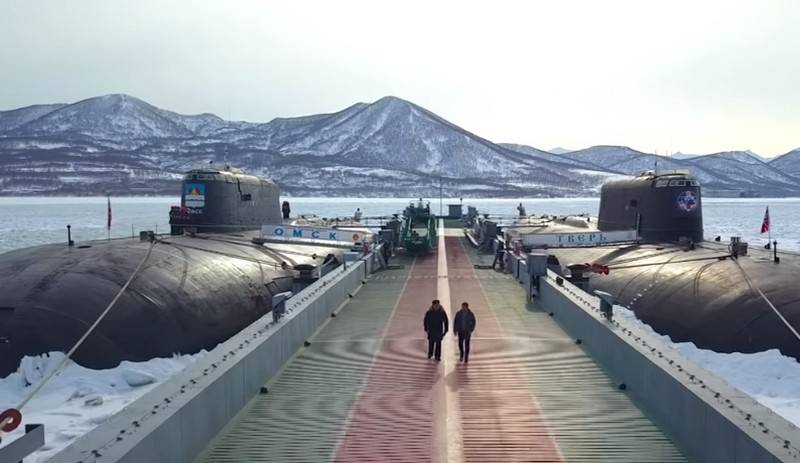 The Pacific Fleet (Pacific Fleet) launched the modernization of the coastal submarine base in Kamchatka to accommodate the new generation of submarines. This was told by the commander of the submarine forces of the Pacific Fleet Vladimir Dmitriev in an interview with the newspaper Krasnaya Zvezda.
According to Dmitriev, a completely new infrastructure with a modified submarine-based system is being created at the base. At present, one pier has already been built with fortifications against the erosion of the shore, and the construction of the second is ongoing. According to him, coastal infrastructure is being created with protection from waves, construction of buildings and engineering support facilities is underway, engineering networks are being laid to supply everything necessary directly to the ship's parking lot.
On the coastal base of the Pacific Fleet's submarine forces, specialists of the Military Construction Complex are constructing a fundamentally new basing system designed to accommodate new generation submarines
- he said.
Regarding the receipt of new submarines in the Pacific Fleet (Pacific Fleet), Dmitriev explained that until 2022 the
fleet
two strategic nuclear submarines of project 955, Generalissimo Suvorov and Emperor Alexander III, should enter. In addition, construction of two multipurpose nuclear submarines of Project 885M (Yasen-M), Novosibirsk and Krasnoyarsk, is underway for the Pacific Fleet.
It is planned that in the period from 2020 to 2022 we will receive three modern cruisers of the project 955 Borey - Prince Oleg (this year - note VO), Generalissimo Suvorov and Emperor Alexander III - carriers of solid-fuel intercontinental ballistic missiles (ICBM) R-30 "Mace"
- said the commander of the submarine forces, adding that for the Pacific Fleet a series of six diesel-electric submarines of the Varshavyanka type is also being built. The main submarine of the Petropavlovsk-Kamchatsky series has already become part of the Pacific Fleet, the second - Volkhov - will be transferred this year, and the third and fourth Ufa and Magadan will be part of the Pacific Fleet until 2022. The fifth and sixth submarines have not yet been laid.