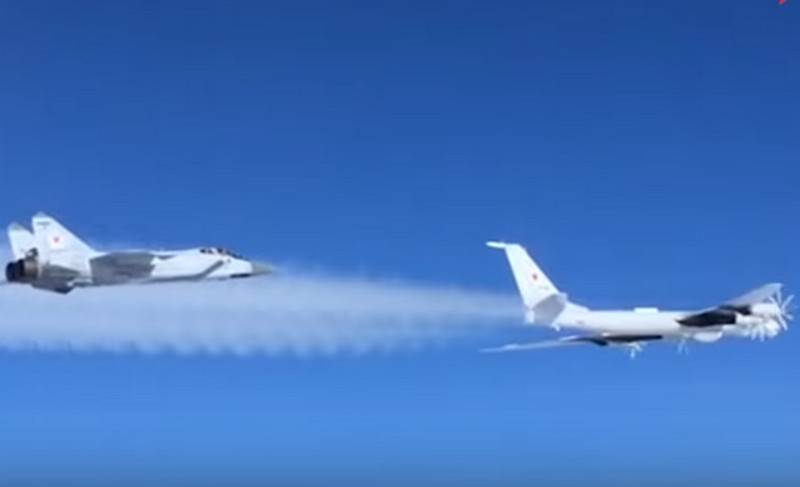 Russian long-range Tu-142 anti-submarine aircraft continue to patrol over the neutral waters of the northern seas. The next two pairs of Tu-142 Northern and Pacific fleets completed a planned flight over the seas of the Arctic Ocean and the Beaufort Sea, approaching Alaska by less than 100 km. This was reported by the press service of the North
fleet
.
According to the report, the flight duration was more than 15 hours, during which time the aircraft covered more than 11 thousand kilometers by air refueling from Il-78 fuel refueling machines in the North Pole region. In some areas of the flight, the Tu-142 was accompanied by Russian MiG-31BM.
As noted in the headquarters of the SF, in March the crews of anti-submarine Tu-142 made several flights over long distances, the total flight time of the crews was more than 100 hours.
In turn, the joint North American Aerospace Defense Command (NORAD) reported that the F-22 US fighter aircraft on Saturday lifted to "intercept" two pairs of Russian long-range Tu-142 anti-submarine aircraft entering the American Air Defense Identification Zone (ADIZ ) near Alaska.
Tu-142 entered the identification zone from the west and north of Alaska. The western pair stayed in the zone for about four hours, flying in the immediate vicinity of the ICEX submarine training area of ​​the U.S. Navy. F-22 fighters accompanied them throughout the flight.
- stated in NORAD, adding that the northern pair of Tu-142 was in the identification zone for about 15 minutes and was also accompanied by F-22 fighters. It was located 45 nautical miles (about 83 km) off the coast of Alaska.