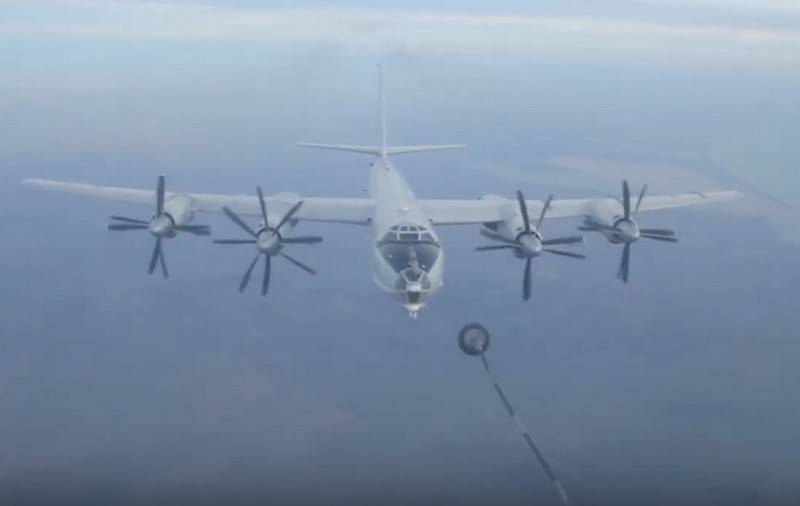 A pair of Russian long-range anti-submarine aircraft Tu-142 made a long flight over the neutral waters of three seas and the Atlantic Ocean. This was reported by the press service of the North
fleet
.
According to the report, the crews of anti-submarine aircraft performed a flight at maximum range, having spent more than 15 hours in the air. On the route in the area of ​​the southern part of the Norwegian Sea, Tu-142 was refueled from the Il-78 refueling aircraft of the Russian Aerospace Forces.
The flight duration of the Tu-142 crews was more than 15 hours. Pilots worked out the skills of completing a given course over reference-free terrain and coordinated actions when piloting in the absence of ground-based radio navigation aids. In addition, the crews conducted training to solve problems in the far sea zone
- Reported the press service.
This is the second long-distance flight of Russian Tu-142 anti-submarine aircraft over the past two weeks.
As noted, in flight, Russian aircraft were escorted by British and French fighters. According to the United Kingdom Department of Defense, the British Royal Air Force fighters Typhoon and the Voyager tanker rose to identify and escort the Tu-142.
Initially, British fighter jets that flew from Lossimuth airbase in Scotland cruised around the Shetland Islands in anticipation of the arrival of Russian aircraft to the UK. Then they were escorted by British fighters, who had risen from Coningsby Air Base in the English county of Lincolnshire.