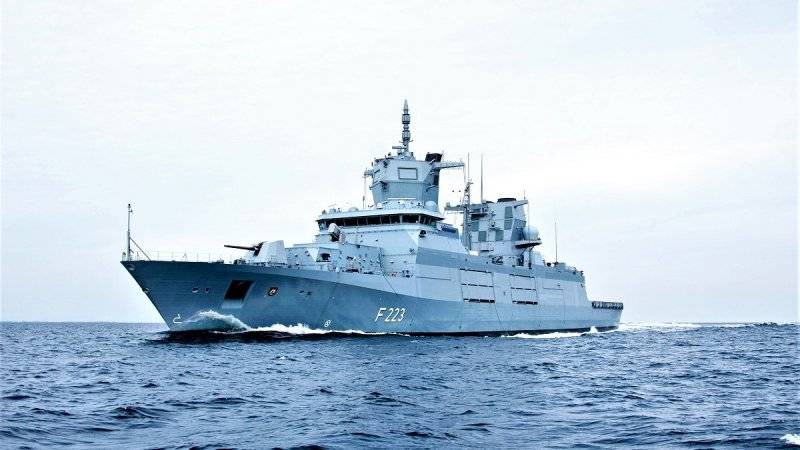 The German Navy received a second F125 class frigate. The ceremony of transferring the ship took place on March 3 at the naval base in Wilhelmshaven, where the frigate arrived the day before from the shipyard in Hamburg.
Nordrein-Westfalen is the second F125 class frigate. The keel of this ship was laid on October 24, 2012, the ship was handed over to the customer for 2018, but the delivery dates were later shifted due to problems with the head frigate of the series. The frigate will replenish the combat strength of the German Navy this year, the date has not yet been announced.
The lead frigate of this project, Baden-Württemberg, which gave the name to the whole type, was built on November 2, 2011 and was launched in 2013, and in 2016 it was adopted by the military. However, it was soon discovered that the product was defective. The ship had a roll to the starboard side of 1,3 degrees, overweight, problems at the central post. As a result, for the first time in German practice, the ship was returned to the manufacturer.
On April 30, 2019, Baden-Württemberg was handed over to the military again, without any ceremonies.
The F125 class frigate has a displacement of 7200 tons, a hull length of 149,5 meters, a width of 18,8 meters, and a draft of 5 meters. Gas turbine power plant allows the ship to reach speeds of up to 26 knots. Cruising range - 4000 miles. The crew is 126 people. There is the possibility of additional accommodation for up to 60 people landing.
Armament: 127-mm gun mount, two 27-mm anti-aircraft artillery systems MLG 27, ASM "Harpoon", SAM SAM, five 12,7-mm machine guns, two 324-mm three-pipe torpedo tubes. It carries two multi-purpose helicopters NH90 and four inflatable boats with a rigid hull type RIB.