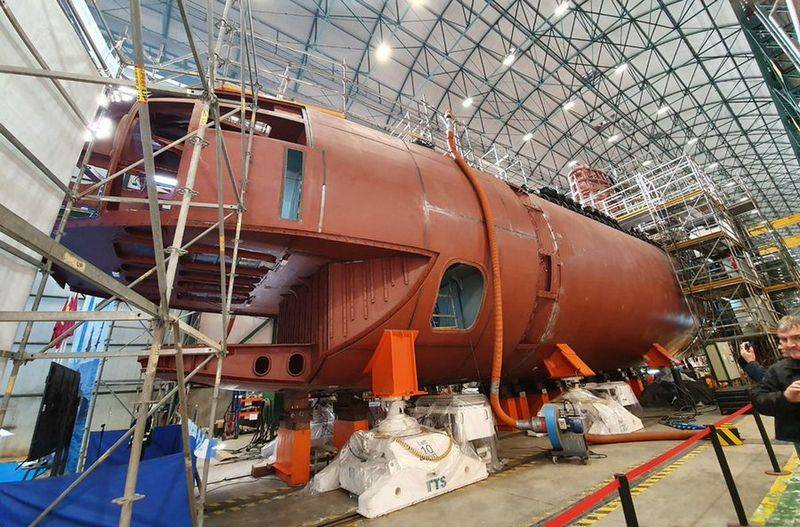 Project S-80 lead submarine at Navantia in Cartagena
The latest Spanish submarines of the S-80 project will receive a non-volatile power plant (VNEU). This was reported by the press service of the Spanish shipbuilding company Navantia.
According to published data, Navantia, together with Abengoa, completed a test program for a promising anaerobic power plant designed for the latest Spanish diesel-electric submarines of the S-80 project. It is reported that enterprises are already preparing for serial production of the installation. The first VNEU will be installed in July 2021 on the third Cosme Garcia submarine under construction, Project S-80. The first two submarines of this project will be built without VNEU, the addition of the system will occur after the introduction of submarines.
The Spanish non-volatile power plant for submarines of the S-80 project is based on the principle of bioethanol decomposition (BioEtOH) in special reactor processors with the production of high-purity hydrogen. The resulting hydrogen, together with oxygen, is supplied to the fuel cells. Oxygen is stored in liquid form in a cryogenic high pressure tank. The carbon dioxide obtained during the decomposition of bioethanol is removed overboard in a mixture with sea water.
The declared power of VNEU is "not less than 300 kW", and the duration of the stay and the course of the boat in the underwater position should be 15 days.
S-80 project diesel-electric submarines are 80,8 meters long and 11,68 meters wide. The displacement of ships is 3 thousand tons. S-80s can reach speeds of up to 19 knots. The submarines are armed with six torpedo tubes of a caliber of 533 mm for torpedoes and anti-ship cruise missiles.
In 2004, the Navantia shipbuilding company pledged to build a series of new submarines of the S-2 project for 80 billion euros in order to replace 4 diesel-electric submarines of the Agosta type of the Spanish Navy. The delivery of the head submarine was planned in 2011. However, miscalculations in the design led to the weighting of the submarine and problems with the ascent. Due to financial and technical problems, the construction of boats was delayed for a long period, and their planned cost increased from contract 1,756 billion euros to the currently planned 4 billion euros.