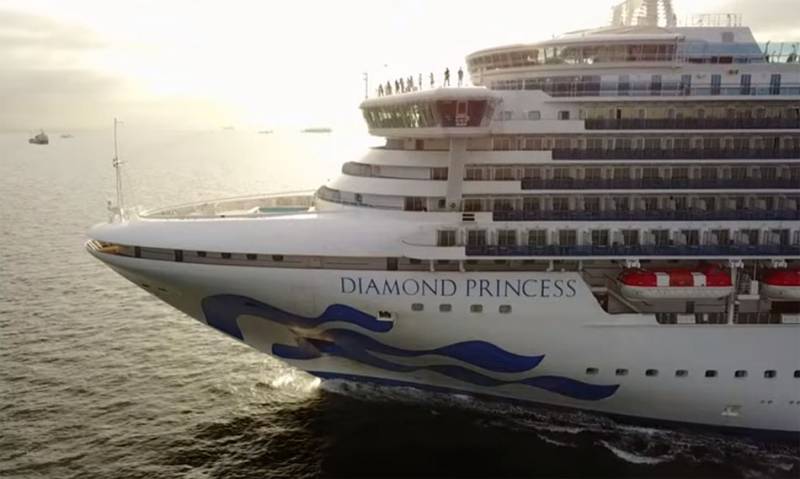 Against the background of more than a peculiar meeting of Ukrainians evacuated from Chinese Wuhan in the homeland, the situation with the citizens of this country from the Diamond Princess cruise ship is noteworthy. Quarantine measures due to the outbreak of coronavirus on an ocean liner located in the port of Japanese Yokohama ended several days ago. Of the nearly 4000 passengers and crew, more than 600 were infected with the COVID-19 virus.
The consular service of Ukraine said that Ukrainian citizens remaining in Yokoham were invited to evacuate to their homeland. As it turns out, the vast majority of citizens refused to evacuate to Ukraine: 24 out of 25 people. One "did not refuse" just because nothing was known about his decision - Ukrainian diplomats simply had no connection with him.
The representative of the Ukrainian Foreign Ministry said that at present two Ukrainians are in one of the Japanese clinics.
From the report:
We offered them all an evacuation, but 24 out of 25 people refused. With one, we are still trying to establish a connection. They are representatives of the crew of the cruise ship. And their decision is dictated not only by the contract, but also by personal wishes.
In Ukraine itself, it was suggested that Ukrainians with the "Diamond Princess" could see footage from Novy Sanzhar, where compatriots evacuated from Wuhan were met by local residents. A few days ago, protesting against the placement of evacuated in the sanatorium, residents of Novy Sanzhar threw stones at buses, burned tires, and got into a fight with the police. President of Ukraine Vladimir Zelensky then called it a manifestation of the "European Middle Ages" in the country.