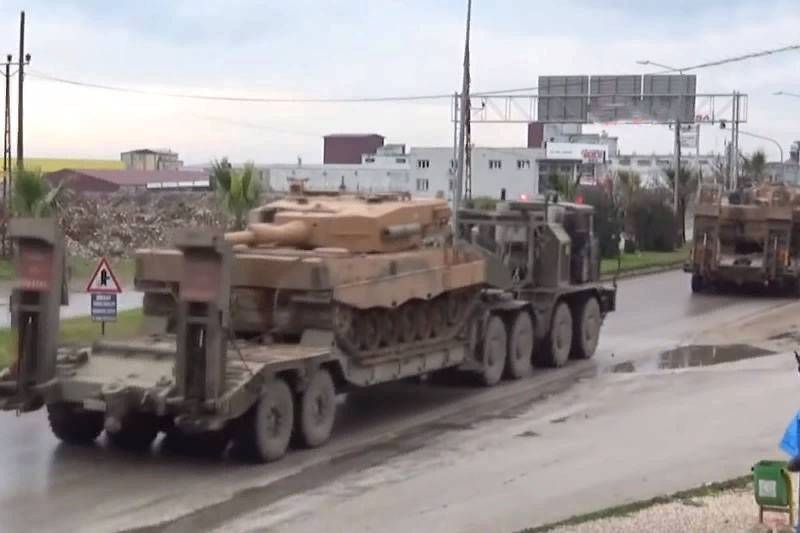 Damascus and Ankara are building up forces in Idlib, pulling up military reserves on the front formed in the northwestern part of the country. On February 22, high activity was noticed during the transfer of new units to the theater.
For the first time in the ranks of reinforcements sent to the front by Ankara, the main combat
Tanks
"Leopard" modifications 2A4, which are the main striking force of the Turkish army. All MBTs of this family are in the army, which indicates their high weight in the armed forces.
In total, according to IISS, a year ago Ankara owned 316 Leopard 2A4 machines; 170 Leopard 1A4; 227 Leopard 1A3. The main acquisition of the tank during its modernization in option 2A4 was a fully digital fire control system and an improved tower with titanium / tungsten armor.
At the same time, additional Syrian troops are being pulled to the front line. In particular, new motorized infantry units, mechanized and artillery units are being deployed. At the same time, when they approach the war zone, there is a chance to "meet" with jihadists. As shown in one of the videos, when transporting a tank (or self-propelled guns) on a tractor, the militants hit armored vehicles from the ATGM. Apparently, the Syrian troops have serious problems with guarding the MBT, and not only on the battlefield.