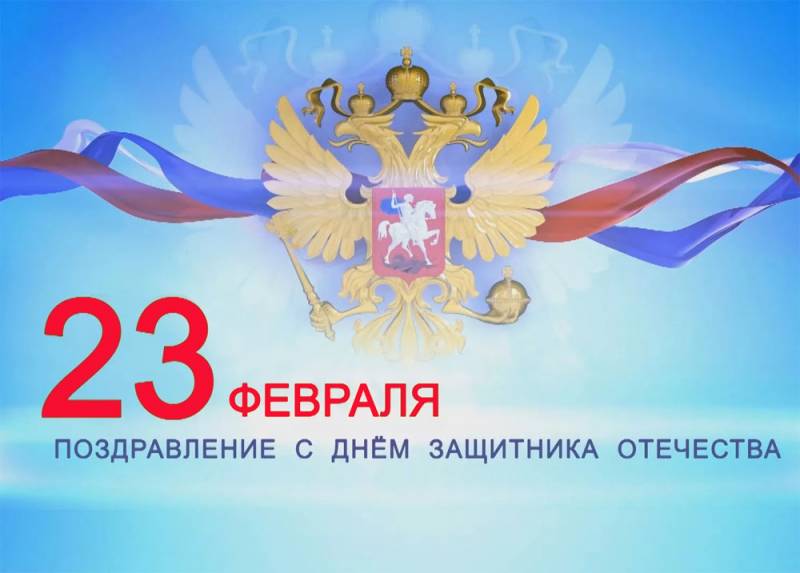 Today is February 23rd. Officially - Defender of the Fatherland Day. However, for many readers of Military Review, this day was and remains the day of the Soviet (Russian) army and the Naval
fleet
.
February 23 - a special date in the domestic
stories
. It was on this day more than a century ago that the army began its formation, which broke the ridge of Nazism, which liberated Europe from the Nazis. And in this regard, it is painful to realize the fact that today more and more active are attempts to slander the feat of the Soviet soldier, the Soviet people; the fact that well-known forces are trying to belittle the role that the Red Army played in the liberation of the European continent.
Regular readers of Military Review know and remember history, try to defend the truth about the war, which in itself is already an act of defense of the Fatherland.
On the Defender of the Fatherland Day, the team and readers of the information and analytical portal are congratulated by the Hero of Russia, Chairman of the Presidium of the Organization "Russian Officers", Major General Sergey Lipovoy:
Congratulations to the staff and all readers of the Military Review on the holiday of February 23, the Defender of the Fatherland Day!

The relevance of this holiday can hardly be overestimated, because today the defense of the Fatherland depends on each of us. Our army firmly and confidently defends the borders of the Motherland, defends the interests of the country wherever it is needed. The Russian armed forces are ready to repel any attack.

But it is important to protect the country from criminal attempts to rewrite history, especially on the eve of the Victory Day. And this is already possible not only for military personnel, but for each of us. Therefore, the defense of the homeland is a common cause!

I wish you, dear friends, good spirits, good health and all the best!