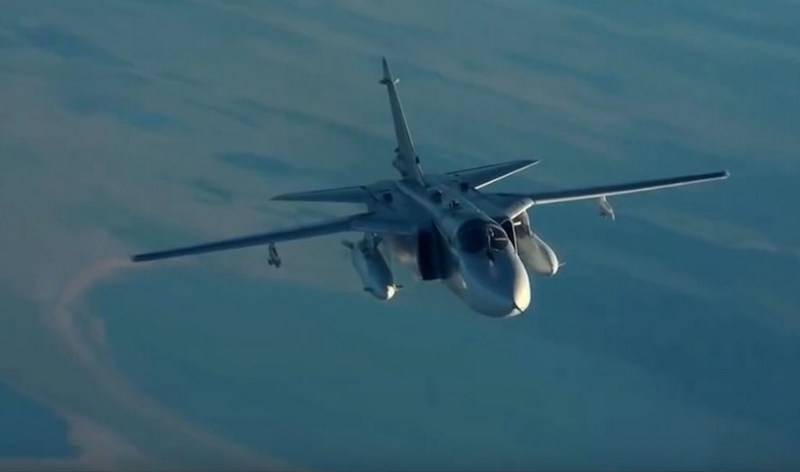 Militants from pro-Turkish groups tried to bring down a Russian Su-24 front-line bomber, which attacked the advancing militant units in the area of ​​the village of Nairab, Idlib province.
According to information from various sources of information, militants of pro-Turkish groups tried to bring down the Russian front-line bomber Su-24 of the Russian Air Force. For this, one of the MANPADS delivered to the groupings was used. But the Russian plane managed to get away from the rocket, after which it self-destructed.
It is already specifically known that the militants tried to bring down the Russian Su-24, and not belonging to the Syrian Air Force.
As previously reported, in the Idlib de-escalation zone, an offensive began by militants who broke through the defenses of the Syrian government army and were even able to capture part of Nairab. The offensive was actively supported by Turkish artillery and MLRS, which attacked Syrian positions. The command of the Syrian army requested the help of the Russian air force, front-line bombers Su-24 of the air force of the Russian Federation struck the attacking militants, thereby stopping the attack and drove the advanced gang forces back to the starting line. Several units of armored vehicles destroyed by air strikes.
It is known that to cover the actions of the Su-24, Su-35 fighters of the Russian Aerospace Forces were used.
According to recent reports, Russia called on Ankara to stop supporting gangs in Idlib province and to refuse to transfer arms to them.
Recall: the day before Erdogan said that the start of the Turkish operation in Idlib is a matter of time. Apparently, today the Turkish president decided that this time has come.