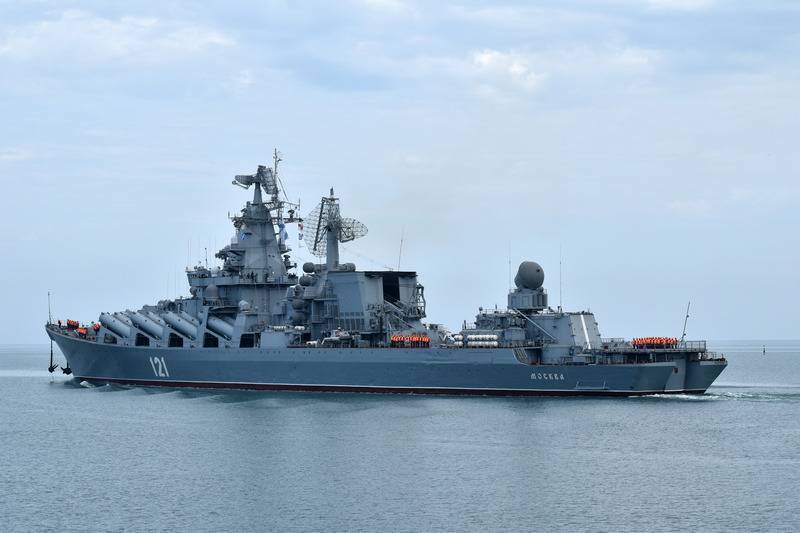 ФлР° РіРјР ° РЅ Черноморского
fleet
- the guards missile cruiser Moskva will last another ten years, the life of the ship is extended to 2030. This was reported by Mil.Press FLOT, citing two informed industry sources.
As explained by the sources of the publication, the cruiser is currently undergoing repairs with the restoration of marching readiness, there is no talk of modernization yet. The power plant was repaired on the ship, focusing on the repair of gas turbine generators, gearboxes, fuel equipment, gas ducts of marching gas turbine engines and other plant components. The transfer of the cruiser to the Black Sea Fleet was scheduled for the second quarter of this year.
At the same time, sources claim that the modernization of the cruiser in the future is possible, but only with the allocation of funds for this. Currently, the Ministry of Defense has no money to modernize. At the same time, the modernization and further extension of the life of Moscow may not be practical, since Moscow will be 2030 years old by 47.
The cruiser "Moscow" has not gone to sea since 2016 in connection with the repair, the first voyage after the completion of the first stage of the repair took place on June 5, 2019.
The cruiser "Moscow" was laid on the stocks of the Nikolaev shipbuilding plant named after the 61 communard in the 1976 year as the Slava missile cruiser, is the leading missile in the series of missile cruisers. Launched 27 July 1979 g., Was put into operation in 1983 year. Displacement - 11380 tons. It is equipped with 16 launchers of Vulkan missiles, artillery, air defense systems, torpedo tubes and depth-fire bombs.
The last time the cruiser was at sea from September 2015 of the year to January 2016 of the year in the eastern part of the Mediterranean Sea for air defense from the sea direction of the Russian Hmeimim airbase in Syria.