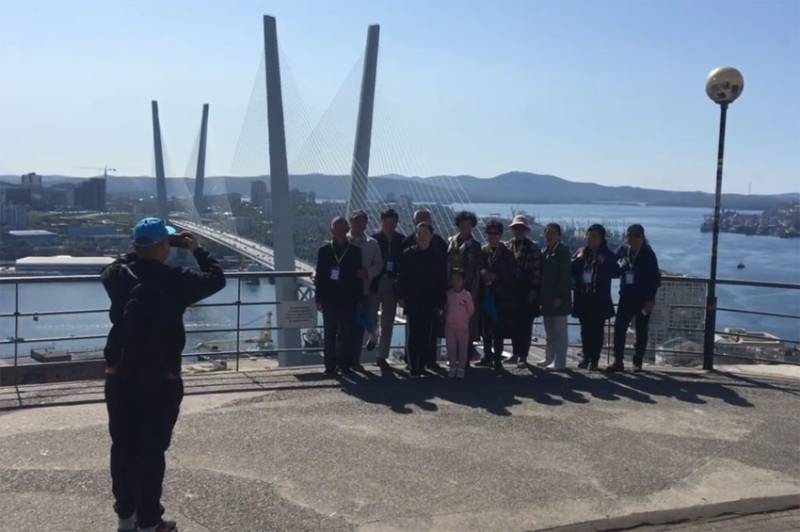 I have written more than once on the problem of low population density in Siberian and Far Eastern regions. He talked about the outflow of youth from the Trans-Urals, that the population of these richest regions was practically abandoned by the central government. Not to mention the futility of life in difficult conditions for young people.
How many opinions during this time were expressed by readers, how many conversations that there really are no problems! Places are not adapted for a comfortable life, the land is barren, the climate is difficult ... And there are a lot of the same nonsense from the "experts" from comfortable places to live.
But most of all in these conversations I like the conclusion. The proposed logic of reasoning is as follows: it is not necessary to populate Siberia and the Far East. The wealth of Siberia can be taken "hap-way", bringing labor for short periods of time on a rotational basis. Local peoples and those who once came to master the riches of Siberia, let them live their own lives. But do not let anyone in the Trans-Urals. Let there be no one's pantry of minerals and other wealth. Nobody's, but belonging to Russia! ..
How local Siberian authorities "squander Russian lands"
The strange attitude towards the eastern regions of Russia today is no longer surprising. A light rail or a new modern highway is being built. Where does Russia end? That's right, in Kazan or somewhere else. Show advanced industry developments to improve the comfort of people's lives, where will they be implemented?
And at the same time, Omsk transporters, for example, rejoice as children that the decommissioned Moscow trams that have traveled the streets of Moscow for more than a decade will be transferred to this million-plus city and will replace trams that are already four decades old or more.
For the local authorities, who are well aware that while maintaining existing trends, the population in the near
historical
perspective simply will not remain in sufficient quantities, the issue of raising funds is a paramount task. Ultimately, it is the local government that is responsible to the residents for everything.
So, on the one hand, we have a native state there, beyond the Urals, which has no money to ensure a decent life for Siberians and Far Easterners. And on the other hand, we have rich China, which is ready to invest in these regions. China, which is ready to create jobs, develop tourism, buy land, build factories, cities and towns.
Let's look at one of the fairly prosperous Siberian regions: the Novosibirsk region. In 2019, 40 Chinese came to this region! Moreover, 000 Siberians left for China. Notice, not to Moscow or to another western region of Russia, but to China. I will quote from the speech of the Deputy Governor Vyacheslav Yarmanov:
"The People's Republic of China is one of the main strategic partners of the Novosibirsk Region, occupies the first place in export and import: the share of China in the foreign trade turnover of the Novosibirsk Region is 30%.
In recent years, the agricultural industry in our region has seen serious positive dynamics, and we are ready to continue cooperation in this direction, as well as in tourism, science and others. We are ready to consider options for creating joint Russian-Chinese enterprises. "
Like this. Are local authorities squandering the wealth of Siberia or not? Why are Chinese business and Chinese tourists inviting to Russia? Why create Russian-Chinese enterprises?
The number of visitors to the Far East from the Middle Kingdom is growing exponentially?
Any resident of Irkutsk will tell you in detail about how many Chinese come to Russia every day. Why Irkutsk Yes, simply because for the Chinese, Irkutsk today is like St. Petersburg once for Russia itself. Window. In this case, to Russia. I spoke with several residents of this city. I received interesting information about one of the districts of this city.
The so-called 130th quarter of Irkutsk. A tourist oasis, which was built on the site of the old city especially for the Chinese. Old-fashioned huts with cafes, restaurants and souvenir shops. Huge shopping center "Fashionable quarter". In the summer months, if you take a walk around this quarter, you will get the full feeling that you are in China. Asian faces are much more than European.
Naturally, the question arises as to the appropriateness of all these transformations. Maybe this is unprofitable? Profitable! Still as profitable. Chinese who come to Irkutsk are rich! And they spend huge, by local standards, money. The time when our citizens went to China for consumer goods has passed. Now the Chinese are coming to us for ... quality goods.
Irkutsk authorities have at least some income from the tourism industry from China. An income that allows you to solve some everyday problems of citizens. And Chinese businessmen, who, following tourists, develop these territories, build restaurants, cafes, small enterprises, hotels and tourist centers create jobs for the local population.
And how many Chinese are resting on Lake Baikal today? After all, this place today has become almost a must for visiting Chinese tourists. Moreover, it can already be said that for the Chinese, Lake Baikal has already become a part of precisely Chinese culture, and even more strongly, a part of Ancient China.
If you ask a Chinese tourist who first discovered Lake Baikal, you are almost 100 percent likely to hear that the Chinese discovered Lake Baikal. North Lake, Bei Hai in Chinese, is really mentioned in Chinese manuscripts. The popular singer Li Jang, who several years ago wrote a very popular lyrical song about the North Lake, added fuel to the patriotic fire of the people of China.
Guard? Are local authorities selling Siberia to the Chinese? Yes, they do. Forced to sell! Imagine if all this had not happened? There would be no Chinese tourists, Chinese cafes and restaurants, Chinese joint ventures. What would happen to the region? What would happen in Listvyanka or on the island of Olkhon? Nothing…
The Chinese are massively buying up land
I have already mentioned the small village of Listvyanka on the right bank of Lake Baikal. Here is an example of it and try to understand the issue of land purchase by the Chinese. Quite indicative, I must say, an example.
Listvyanka today is one of the centers of Chinese tourism on Lake Baikal. And one of the centers of confrontation between Russian and Chinese businessmen on the sale of land. Local residents even organized some kind of movement to save Siberian land from Chinese expansion.
Let Russians buy and build Russian hotels! Good slogan, isn't it? Only here, with the advent of Chinese business, local residents raised the price of land a little. For the construction of the hotel you need 30-40 acres of land. Otherwise, the hotel will be simply unprofitable.
Do you know how much one hundred square meters of land costs on the first line off the coast of Baikal today? At least a million rubles or more. That is, to purchase the land necessary for construction, the businessman must initially pay 40 million rubles for the land.
How many Russian businessmen became interested in this offer? Not at all. Alas, Chinese businessmen are richer and more willing to invest in small and medium businesses. And local residents, no matter how patriotic they are, will sell land to companies affiliated with the Chinese. Just because they pay more ...
Fly in the ointment in a patriotic barrel of honey
I understand the patriots who advocate the preservation of Russian Siberia and the Far East. How many Russian lives have been laid for this land to belong to Russia1 How much effort and money our country has spent on developing these regions!
I understand those who advocate the liberalization of the use of Siberian wealth. If a country does not have the ability and desire to preserve territories for itself, if the citizens of this country who still live are guarded, get resources for this country, and the state does not give a damn, then people somehow need to survive. Or leave for the central part of the country.
Even that today we practically give our land to ruin to foreigners, I understand. Probably, each of us heard about the lands where the Chinese and Koreans were engaged in agriculture, about the deserts after such barbaric use.
But there is another fact that some people know about, but which they prefer not to talk about. The Chinese are a fairly isolated people. That is why they retain their diasporas in all the countries into which they penetrate. Chinatowns are almost everywhere.
I will give a very simple example. Chinese tourists, which today are many not only in Siberia, but also in Moscow, St. Petersburg and other tourist cities, almost never go to the shops of Russians. Chinese guides, as well as the Russians working with the Chinese, will certainly lead tourists to shops, cafes, restaurants owned by the Chinese. Except for the original Russian "brands". And the joint ventures that are being created with us are working for export to China.
Simply put, a significant part of our economy today works in the Middle Kingdom. We carry out the tasks posed by the Chinese business. What's next? Siberia and the Far East are moving farther and farther away from Central Russia and are more and more drawn into the sphere of economic interests of China. What happened next? And then business penetrates into politics, into local government ... I would like to hope that both Siberia and the Far East will nevertheless preserve their domestic identity and will develop in the interests of the people living there, and, therefore, in the interests of Russia.