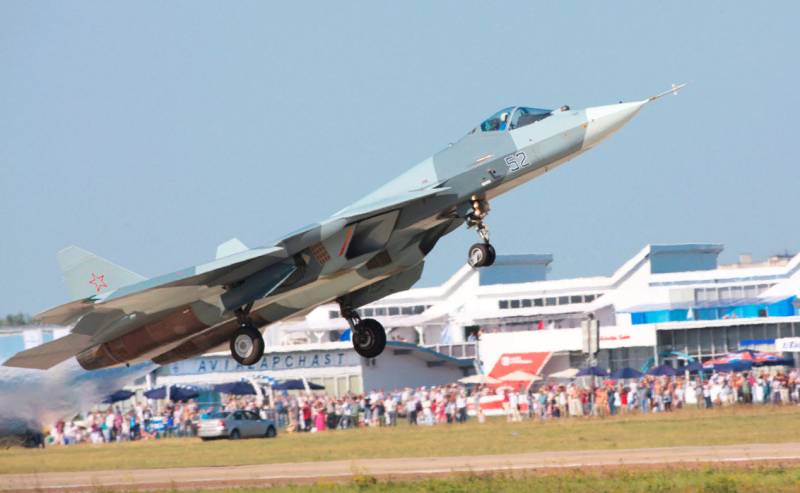 A report was released on Chinese TV that was dedicated to the fifth-generation Russian fighter Su-57. In the report, Chinese viewers were reminded that in the world at the moment there are only three countries producing fifth-generation military aircraft: the United States, China and Russia.
After the plot on Chinese TV, the famous Chinese electronic publication Sohu published an article in which, with a fair amount of irony, the author discusses the Su-57. In particular, the article indicates that Russia "tried to sell" the Su-57 first to India, then to Turkey, but so far it has not been possible to put into service the Russian air forces themselves. The author notes that it is still "early to introduce Russia into the list of countries that have the technology to create fifth-generation fighters." It is also added that Russia does not have enough funds for the full implementation of the fifth-generation fighter project.
Chinese users made unexpected criticisms of these statements at Sohu. The main criticism of the copyright claims boiled down to the fact that the author does not mention how the aircraft industry was formed in China itself. In particular, one of the readers suggested the author of the material to reflect on where in China the technology of military aircraft engineering came from - "were they borrowed from the USSR and Russia?"
From comments:
Xiao Bian (author of the article), do not try to discredit the Russian Su-57. Russia, like the USA and China, has advanced technologies in the aircraft industry. Yes, the three countries have different standards. While China and the United States focus on stealth, in Russia this emphasis is on maneuverability and increased capabilities when using various weapons. Russia's bet on the over-maneuverability of a 5th generation fighter cannot be discounted, since it is still not clear what could give a greater advantage in real air combat.
If in our media it is more and more often told about the Su-57 - from a positive or negative position - then this in any case becomes an advertisement for Russian aircraft.
Of course, it is possible to criticize. But are we already doing fine with the new generation of fighters? And the engines we learned to create suitable, right?
There is also an original sentence in the comments:
If the Russians do not have enough funds to develop the Su-57 project, then let's conclude a mutually beneficial deal: we will order the S-500 Prometheus air defense system from them, and with this money they will finish the Su-57 work.