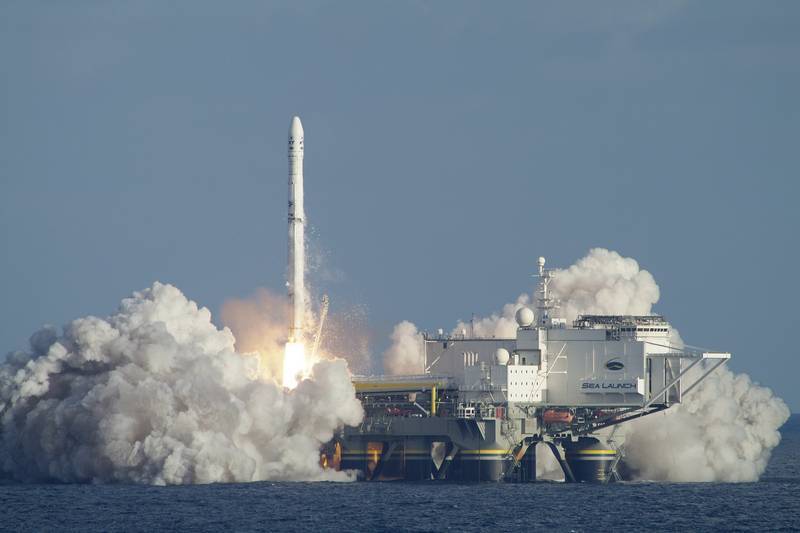 The relocation of the Sea Launch floating spaceport from the US port of Long Beach in California to the Russian Far East will begin on February 22. It is reported by RIA
News
with reference to a source in the rocket and space industry.
According to the source, the floating spaceport will be moved to the Slavyansk Shipyard in Primorye, where necessary repairs and modernization will take place. Further, it was planned to make the Sea Launch space center, consisting of the Odyssey launch platform and the Sea Launch control ship, Sovetskaya Gavan a permanent place of deployment.
The press service of the S7 group, which owns the complex, did not comment on this information.
In early December last year, the media wrote that the US State Department had given permission to move the complex to the Russian coast. In order to prepare the Odyssey launch platform for relocation and obtain permission for transportation, all American and Ukrainian equipment was dismantled from it, which is not critical, since the main "filling" is Russian.
The international Sea Launch company appeared in 1995 with the participation of the Russian RSC Energia, the American Boeing company, the Norwegian Kvärner, as well as the Ukrainian enterprises of the Yuzhnoye and Yuzhmash design bureaus, which produced the Zenit rocket for the cosmodrome 3SL ", the only one adapted for launch from a marine spaceport. A total of 36 launches were made, of which 33 were successful.
In 2014, the last missile was launched, as Russia stopped supplying components for rocket production, including RD-171 rocket engines, to Ukraine.
S7 Space has terminated the contract with the Ukrainian enterprise Yuzhmash for the production of 12 Zenit launch vehicles for launches from the platform as part of the Sea Launch program.
At the end of January this year, the Russian Progress Rocket and Space Center announced its readiness to start creating a missile for the Sea Launch as soon as S7 Space can afford it.
To start work, "Progress" has all the technical capabilities
- said the head of the state corporation "Roskosmos" Dmitry Rogozin.