Last night, the Syrian government army took control of another 12–13 km of the most important M5 highway from Serakib to Aleppo. If by the middle of yesterday the uncontrolled section of the M5 roadbed in this area was about 25 km, now (easily calculated) it has been halved.
At the same time, Syrian troops came close to an important transport hub west of Ras al-Kirmid, where not only two roads and a railroad converge, but also an oil pipeline. Over the past few years, this critical hub has been under the control of militants.
Meanwhile, the advanced part of the Turkish military convoy entered the Syrian settlement of Al-Atarich that night, from which the Syrian government army was less than 5 km beyond the M30 road.
In addition, it is worth noting that the SAA aligned the front line in the Sarmin area. This city is located between Serakib and the administrative center of Idlib province. At the moment, the advanced units of the SAA are located about 2 km from Sarmin, having carried out advancement on a wide front, reducing the threat of flank attacks by Turkish troops in this direction.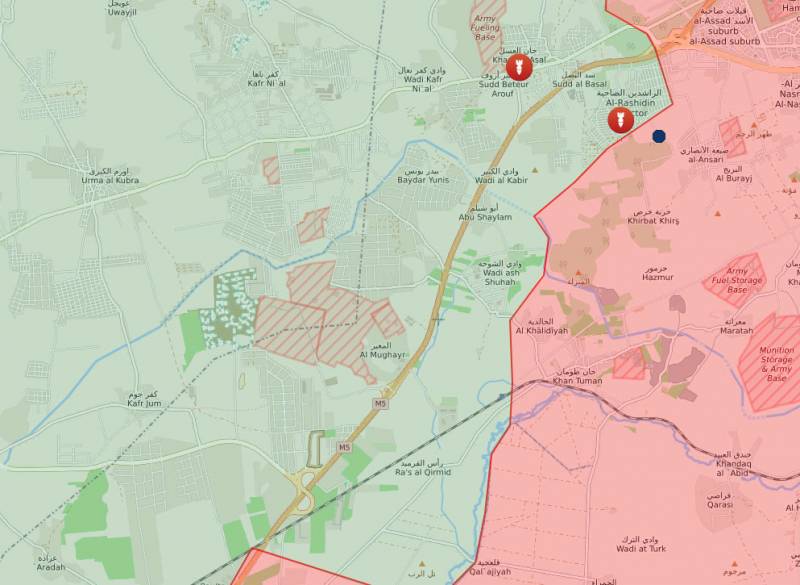 Recall that earlier the Turkish side expressed a desire to conduct regular negotiations with representatives of the Russian Federation on the situation in Syrian Idlib. Ankara continues to declare "humanitarian problems" in connection with "violation by the Assad regime of ceasefire agreements." For some reason, at the time of the violation of the ceasefire by the militants in Ankara, humanitarian problems were not remembered.