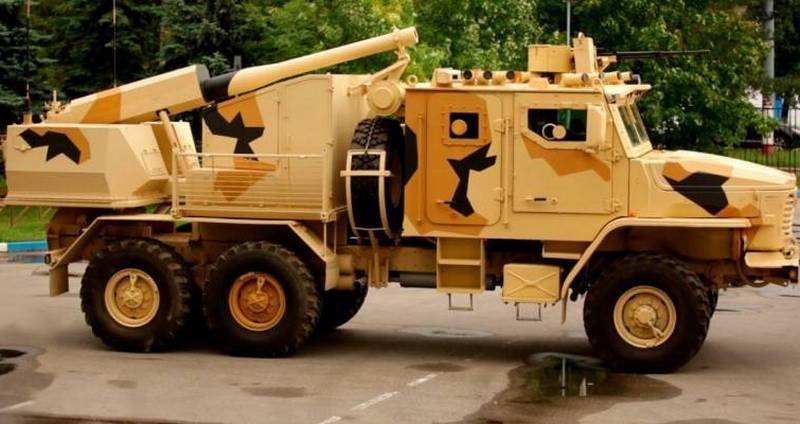 Self-propelled gun "Phlox"
Serial production of the latest artillery systems developed as part of the development project "Sketch" will begin in a year and a half. This was announced by a representative of UVZ at the international arms exhibition Defexpo 2020, which is taking place these days in Indian Lucknow.
According to the representative of the plant, the state tests of the mortar "Drok" and self-propelled guns "Phlox" and "Magnolia" are planned to be completed in a year and a half.
In the next year and a half, it is planned to complete the test complex of the 82-mm self-propelled mortar "Drok", 120-mm SAO on the Phlox automobile chassis, 152-mm SAO on the chassis of the Magnolia armored two-link tracked conveyor. In the same period, mass production of these samples will begin.
he told reporters.
As previously reported, in the Central Research Institute "Burevestnik" (Nizhny Novgorod) in the framework of the experimental work "Sketch" were developed self-propelled artillery guns (SAO) "Phlox" and "Magnolia", as well as mortar "Drok".
In 2018, Colonel General Oleg Salyukov, Commander-in-Chief of the Ground Forces, said in an interview that the domestic artillery complex Nabrosok was being created, including for use in the Arctic. The Knight.
Artillery pieces from this "flower" series, along with conventional artillery shells, are capable of firing mortar mines. Installations can raise the barrel in the range from -2 to + 80 degrees, which allows them to hit targets along a hinged path, direct fire, as well as throw mines almost vertically.