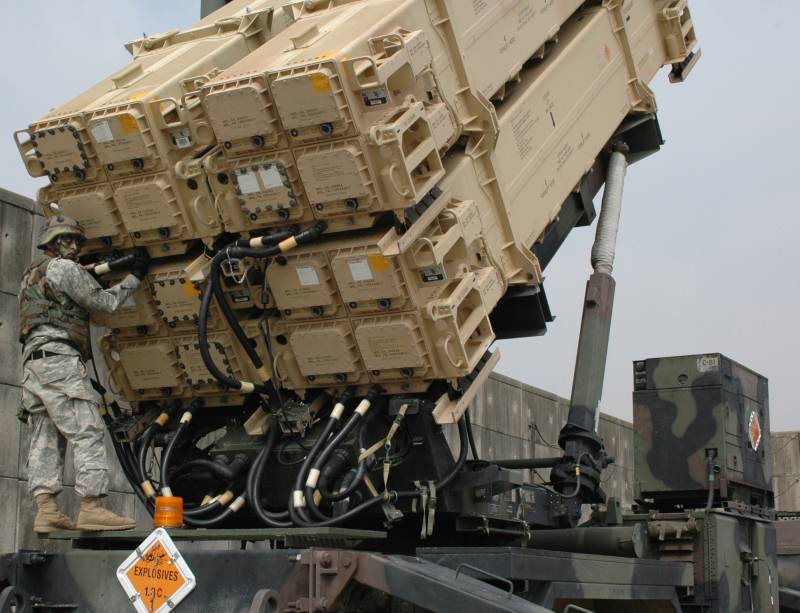 After the missile attack on the places of deployment of the US military in Iraq, carried out on the night of January 7-8, this year by the Islamic Revolutionary Guard Corps, the Pentagon faced the question of the full protection of its own military personnel and the facilities on which they are located in this country. Naturally, this is planned to be done using the most effective missile defense systems available. Today, Patriot air defense systems are considered to be such, the intention to deploy which in Iraq was not so long ago officially announced in Washington. However, with this issue, everything is far from as simple as it might seem at first glance.
The United States recognizes that in order to put its own missile defense there, it is necessary first of all to secure the firm consent of Baghdad. In any case, it was precisely this moment that was emphasized during a briefing held recently at the Pentagon by the Chairman of the Committee of the Joint Chiefs of Staff of the US Armed Forces, Mark Milli. According to him, "a solution to some technical issues" will also be needed, however, in this situation, they play just a secondary role. If the Iraqis stumble tightly, they will not have to be solved at all. As we recall, in Baghdad almost immediately after the assassination of Kassem Suleimani and the Iranian "retaliation operation" that followed, which was typical in Iraq, they declared a categorical unwillingness to see at least one foreign soldier on their land.
Will the US now be able to convince those to whom it has imposed itself on the "defenders"? It's not entirely clear yet. In any case, there are certain signs that Baghdad, which is under unprecedented pressure not at all about to curtail Washington's own military presence in Iraq, may make concessions, or even cancel its own very sensible decision. One way or another, but they have already announced the resumption of joint action with the United States-led allied coalition against ISIS. At the same time, the Iraqis are trying to "keep the mark", claiming in a corresponding official statement that they simply "do not want to waste in vain the time remaining until the establishment of new relations with the coalition".
In fact, this may well be a good mine in a bad game - it is clear that Baghdad does not even have a real military opportunity to "put out the door" of American warriors and their many allies. Again, knowing Donald Trump, it can be assumed that his words about "unprecedented sanctions" that will fall on the country, if it really tries to get rid of the foreign military presence, are hardly an empty threat. With all this in mind, the chances that the American army's units will not go anywhere from Iraq, at least in the foreseeable future, are very high.
However, in this case, the Pentagon should nevertheless take care of a reliable "umbrella" for its military. The number of victims during the last raid, growing before our eyes from the "absolute zero" announced by Washington at the beginning to almost seven dozen shell-shocked Americans, eloquently testifies in favor of this decision. And the statement made by representatives of the US Armed Forces Space Command that all missiles aimed at Iraqi bases were discovered and tracked ahead of time by its forces and means also raises certain doubts. If so, why would the Pentagon hastily conclude a contract with Raytheon to modernize a missile attack warning system called FORGE (Future Operationally Resilient Ground Evolution) worth nearly $ 200 million? Does this mean that everything is not so reliable in the American missile defense system?
By the way, one should not forget that the MIM-104 Patriot complexes, which covered the oil facilities of Saudi Arabia, could not protect them from last year's massive attack, which, as you know, the United States accused of just Iran. After all, since it didn't help, is it worth breaking spears with Iraq?