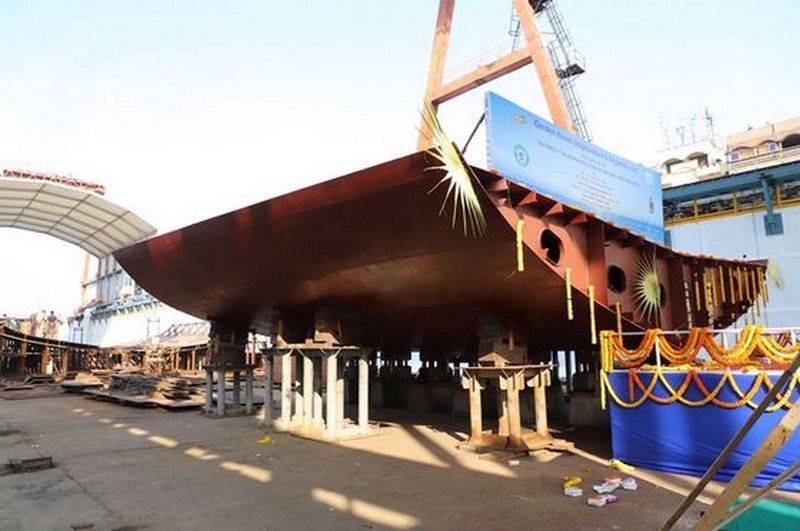 In India, the Garden Reach Shipbuilders & Engineers Limited (GRSE) shipyard in Kolkata hosted a ceremony to lay the second P-17A class frigate (Project 17A), designed for the Indian Navy. This is stated in the statement of the press service of the shipyard.
In total, the Indian Navy must receive seven frigates of this project by 2025. Ship construction is carried out at once at two shipyards - Mazagon Dock Limited in Mumbai and GRSE in Kolkata. The first is to build four frigates, the second - three. The laying of the lead ship in Kolkata took place in February 2017, and the first production ship in Mumbai in December of that year. The transfer of the head and first serial frigates of the Indian Navy is scheduled for 2022-2023.
In September last year, the lead frigate of Project 17A Nilgiri was launched. The ceremony was held at the Shipyard GRSE in Kolkata. By the way, in April 2018, a 250-ton Goliaph gantry crane collapsed onto the deck of the frigate under construction, causing significant damage to the ship. According to the Indian military, this incident can significantly shift the date of delivery of the head frigate
the fleet
.
The frigates of Project 17A were developed on the basis of the frigates of Project 17 Shivalik, the creation of which the Indians owe OJSC North PCB, who was involved in the design in the mid-90s. Unlike the base model, project 17A has larger dimensions and is built using stealth technology. The design of a promising guard was developed by the Italian company "Fincantieri" under a contract with the Indian Ministry of Defense since the end of 2011.
According to data from open sources, the frigate is 149 m long, 17,8 m wide, 6673 displacement, 226 crew. Power plant - two gas turbines General Electric LM2500 and two diesel engines MAN 12V28 / 33D STC (combined gas turbine + diesel CODOG scheme). Maximum speed - 28 knots, range - 5500 nautical miles at a speed of 16-18 knots, or 1000 miles at a speed of 28 knots.
In service with the ship: Barak-8 anti-aircraft missile launcher (Long Range Surface-to-Air Missile - LR-SAM), BrahMos anti-ship missile launcher (1х8), two RBU-6000 anti-aircraft missiles (local version), two torpedo tubes, 76 mm AU, two MZAK AK-630M, radar ELTA MF-STAR (for air defense systems), sonar.