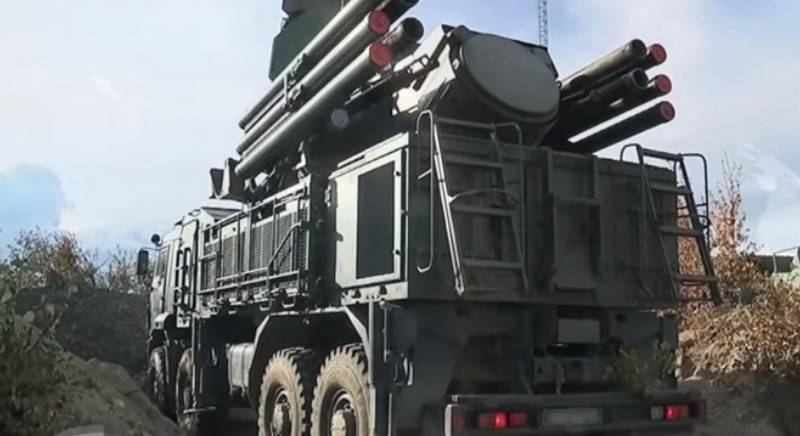 The Russian anti-aircraft missile and cannon system (ZRPK) "Shell-S" was equipped with the latest hypersonic missile. About this in an interview with TASS said the chief designer of air defense systems of the Design Bureau of Instrument Engineering named after Shipunova Valery Slugin.
According to the designer, the Pantsir-S air defense missile launcher received a hypersonic missile capable of speeds up to 5 Machs. The missile was developed recently, successfully passed all tests and was introduced into the armament of the complex.
There are two missiles, they are fighting with a whole range of targets. One standard, another developed recently, it is hypersonic - its speed is 5 Machs and more. This missile flies faster to the target, which significantly increases the rate of fire of the complex, as the firing channel is freed faster. In addition, you don't have to put a lot of explosives in the warhead to disperse the fragments - higher impact speed, higher efficiency of the fragments
- he said.
In his interview, Slugin noted that the Pantsir-S missiles were not equipped with homing heads. According to him, at the ranges at which the complex operates, the tasks of hitting the target are solved by the telecommand system of the missile from the complex.
The Pantsir-S anti-aircraft missile and gun complex is designed to cover objects from air attack weapons in the near zone of destruction. The complex is able to hit targets at any time of day in any weather with high efficiency. In addition to the destruction of air attack weapons, it can also hit ground (surface) targets.
Last year, it was reported that the state tests of a new version of the Pantsir-SM air defense missile system, intended for the Russian army, were announced. In contrast to the Pantsir-S1 air defense system already in service, the new complex received a new missile and a new multifunctional aiming station with a phased antenna array that allows you to "see" targets at ranges up to 75 km. Sighting range of the new complex increased to 40 km. The complex is capable of recognizing and hitting all types of unmanned aerial vehicles.