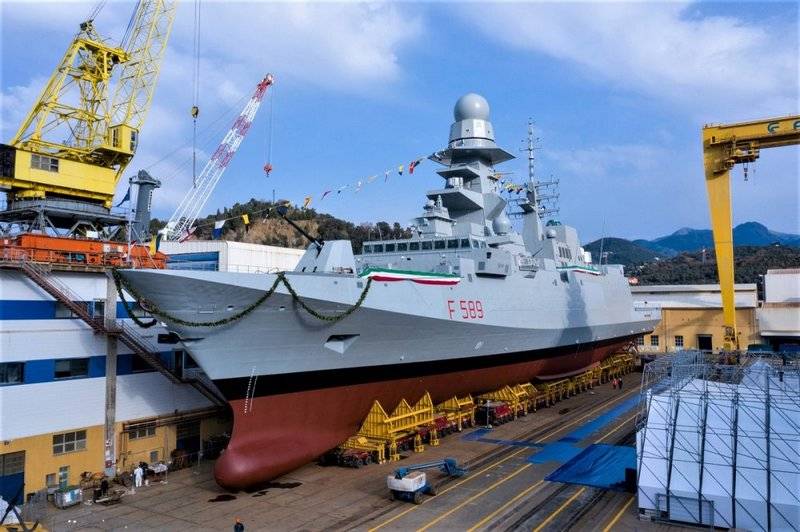 Frigate "Emilio Bianchi" (FREMM class) before launching
The naval forces of Italy next year will replenish the tenth frigate class FREMM. According to TSAMTO, in Genoa at the Riva Trigoso shipyard, the launch ceremony of the frigate Emilio Bianchi was held.
According to the Italian Ministry of Defense, the frigate will be transferred to the shipyard in Mugiano (La Spezia), where the completion and retrofitting of the ship will take place. It is noted that on board the frigate, a combat control system has already been installed and is fully integrated. Sea trials of Emilio Bianchi are scheduled to begin in June, and the transfer
the fleet
scheduled for spring 2021.
This frigate will be the tenth and last built in the interests of the Italian Navy as part of a joint program with France under the auspices of the European Arms Procurement Office (OCCAR). In total, the Italian fleet ordered four frigates in a modification for anti-submarine warfare and six in a multi-purpose version. Emilio Bianchi is built as a multipurpose ship. Unlike the anti-submarine version, multipurpose frigates are armed with a 127-mm artillery mount and the possibility of launching from the stern of a speedboat for Special Operations Forces.
To date, eight frigates of the FREMM type are serving in the Italian Navy, another, the ninth Spartak Shergat, is planned to be included in the Italian fleet by May of this year.
FREMM frigates are designed to patrol territorial waters, to combat all types of threats - air, surface, underwater, land, shipping control, counter terrorism and counter piracy.
TTX multipurpose frigate of the FREMM type: total displacement - 6900 tons, hull length - 144 meters, width - 19,7 meters. A combined diesel-electric and gas turbine installation was installed. Speed ​​- over 30 knots. Cruising range - 6800 nautical miles. The crew of the ship - 131 people, the helicopter group - from 14 to 23 people.
The frigate's armament includes: Aster-15 or Aster-30 anti-aircraft missiles in a vertical installation for 16 missiles, Tesio anti-ship missiles, one 127 mm and two 76 mm gun mounts. There is a torpedo tube for 324-mm torpedoes MU-90. The ship is equipped with a helicopter hangar and helipad, which allows you to carry on board two multi-purpose helicopters SH-90 or one SH-90 and one anti-submarine AW-101.