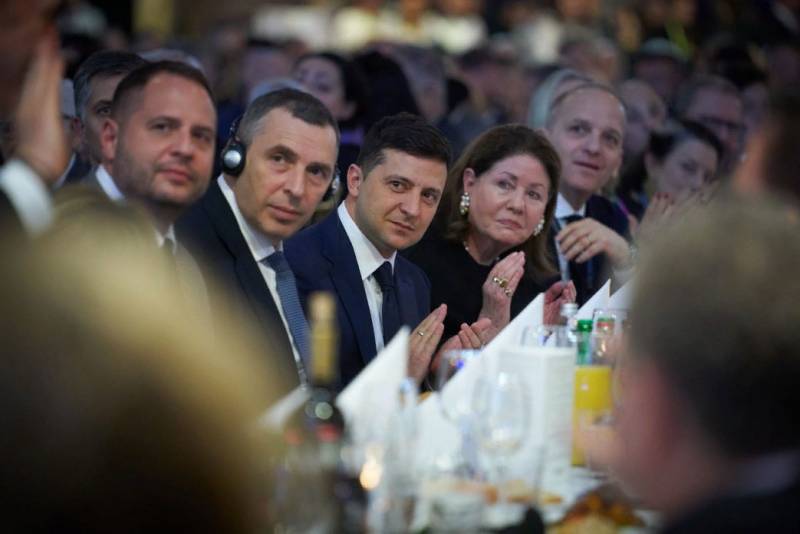 President of Ukraine Vladimir Zelensky once again made it clear that he was ready to trade in the memory of his ancestors, including the memory of the exploits of his grandfather - a participant in the Great Patriotic War. During the briefing, which was broadcast by Ukrainian TV, the Ukrainian president spoke in indictment about the Soviet Union.
According to Zelensky, who caught the conjuncture of the Polish elites during his visit to Poland, the Soviet Union "is one of the culprits of the outbreak of World War II."
In such cases, the expression: "caved in at the right time."
From a statement by Mr. Zelensky:
Poland and the Polish people were the first to feel the collusion of totalitarian regimes. This led to the outbreak of World War II and allowed the Nazis to launch the deadly flywheel of the Holocaust.
Zelensky further announced that today Europe cannot remain silent, as it was in 1939.
The Polish elites were inspired by Zelensky's speech. After all, Zelensky, in fact, repeated everything that official Warsaw says about the beginning of World War II today. In the Polish media, Zelensky's statement is circulated especially eagerly with comments about the "correctness of the estimates"
stories
".
But neither the Polish elites nor the Ukrainian president again remembered how Europe was silent in 1938, when the Polish army invaded Czechoslovakia at the same time as the Nazis, when the partition of this state was carried out on the basis of the Munich agreement.
Recall that the President of Russia was not invited to Warsaw. The reason is clear: the Polish authorities are frankly afraid that Vladimir Putin might recall what role Poland itself, having concluded an agreement with Hitler, played in unleashing a big war.