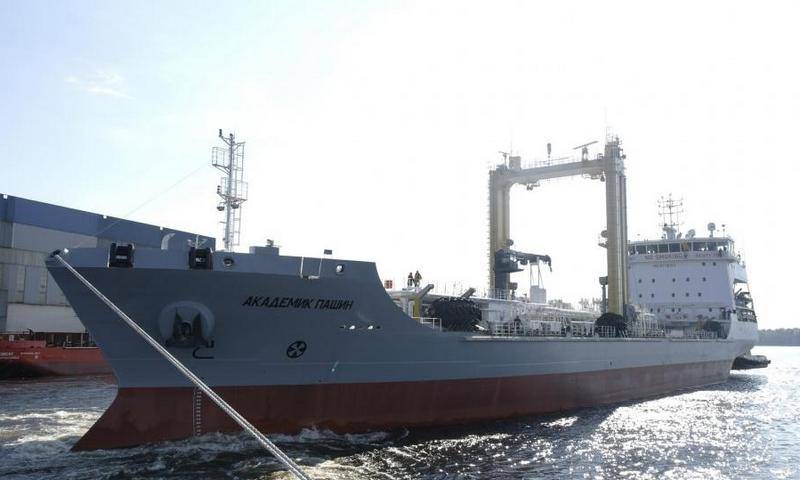 The Northern Fleet took on board the medium-sized marine tanker Akademik Pashin, project 23130. The flag-raising ceremony was held on Tuesday in Severomorsk. This was reported by the press service of the Ministry of Defense.
Head of the auxiliary service present at the ceremony
fleet
Department of Transport Support of the Ministry of Defense of the Russian Federation Sergey Epifanov said that in the future the Navy will receive five more tankers of this project. One of the new tankers will also be part of the Northern Fleet in 2024, where the remaining four vessels will be delivered, and Epifanov did not disclose the dates for their construction.
As for the prospects for these vessels, in 2019 the Minister of Defense of the Russian Federation decided to build five more tankers of this project. This tanker is not specifically for the Northern Fleet, but for the entire Navy, all tankers are universal and multifunctional, for all fleets, they have an unlimited navigation area, the hull is made in ice
- He told reporters.
The construction of the Akademik Pashin medium-sized offshore supply tanker has been underway since April 26, 2014 under a contract with the Russian military. The tanker was withdrawn from the boathouse of the plant on March 18, 2016 and launched on May 26, 2016. Deadweight at maximum load of about 9000 tons. The length is the largest 130 meters, the largest width is about 21 meters, the maximum draft is about 7 meters. Maximum speed 16 knots. Autonomy of 60 days. The crew of 24 people. Cruising range is 9000 nautical miles, and one of the main tasks is escorting aircraft carriers.
Tanker of project 23130 is a single-deck vessel with a double hull in the cargo area
tanks
able to walk in the northern latitudes. It can transfer or receive several types of liquid cargo without mooring to another vessel or ship: diesel fuel, fuel oil, kerosene, oil, water, and also accept, store, transport and transfer dry goods (food, skipper and technical property) using the traverse system transfer of goods to the sea. It can be used to eliminate emergency oil and oil product spills.
The vessel is named in honor of Valentin Mikhailovich Pashin, Hero of Russia, an outstanding shipbuilding engineer, full member of the Russian Academy of Sciences, long-term director of the Krylov State Scientific Center.