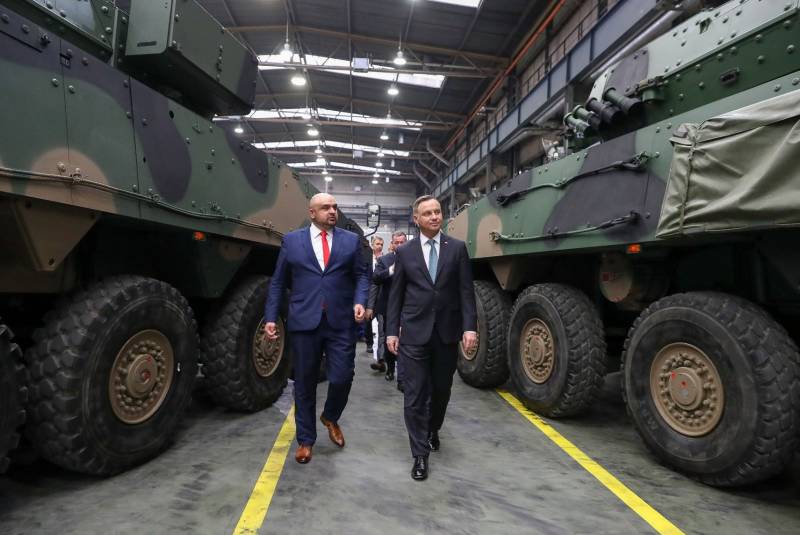 Acting as Commander-in-Chief of the Polish Army, President Andrzej Duda arrived with an inspection in the city of Staleva Volya, where a machine-building enterprise of the same name is located. It belongs to the Central Industrial District of Poland. The Russians are well aware of this plant since Soviet times as a manufacturer of powerful and reliable special equipment. But in addition to civilian equipment, military equipment is also produced here.
A press conference was held at the enterprise, which presented novelties intended for the Polish armed forces. Those present were able to get acquainted with the artillery systems Rak ("Cancer"), Krab ("Crab") and Kryl ("Shrimp") - "panzer" equipment, as well as Wolverine transporters equipped with ZSSW towers.
After that, Andrzej Duda met with the staff of the enterprise in the final assembly workshop. It is here that the final stage of the production of military equipment takes place. Employees of this workshop produce Regina divisional fire modules with Krab 155-mm self-propelled howitzers, command-and-staff vehicles, ammunition transport vehicles and repair vehicles. It also produces elements of the "Cancer" fire modules equipped with M120K self-propelled mortars and support vehicles. In the future, it is planned to create self-propelled mortars on the caterpillar M120G.
In addition, the Huta Stalowa Wola company ensures the implementation of one of the most important parts of the Wisla state program for the production of components for Patriot air defense systems. It is also planned to begin production of the Borsuk floating infantry fighting vehicle, the new ZSSW-30 combat tower. Planned production of other types of military equipment.
The company also produces components and repairs equipment previously supplied to the Armed Forces of Poland. We are talking about self-propelled artillery, engineering vehicles, transporters and much more.
President Andrzej Duda examined with interest the modern and high-tech production equipment of the enterprise. He was clearly pleased to be familiar with the Huta Stalowa Wola products, equipment and team.
In Poland, the main striking force of the ground forces is considered artillery and missile forces. Therefore, equipping these military branches with the most modern technology is given increased attention. This is especially noticeable since 2016, when the development of artillery systems went faster than equipping other arms of the armed forces of Poland.
The flagships of Polish artillery were the Regina divider fire modules equipped with 155-mm self-propelled howitzers "Crab", battery fire modules equipped with 120-mm self-propelled mortars M120K Rak (Cancer). In the future they plan to equip these complexes not only with mortars and command and staff vehicles, but also with artillery reconnaissance vehicles based on light armored personnel carriers, support vehicles, ammunition transporters and mobile workshops.
By 2021, the Polish Army will have about 80 self-propelled mortars produced by Huta Stalowa Wola.
Today, the problem is the lack of ammunition for new types of weapons, but this issue, as stated in Poland, is already being addressed.