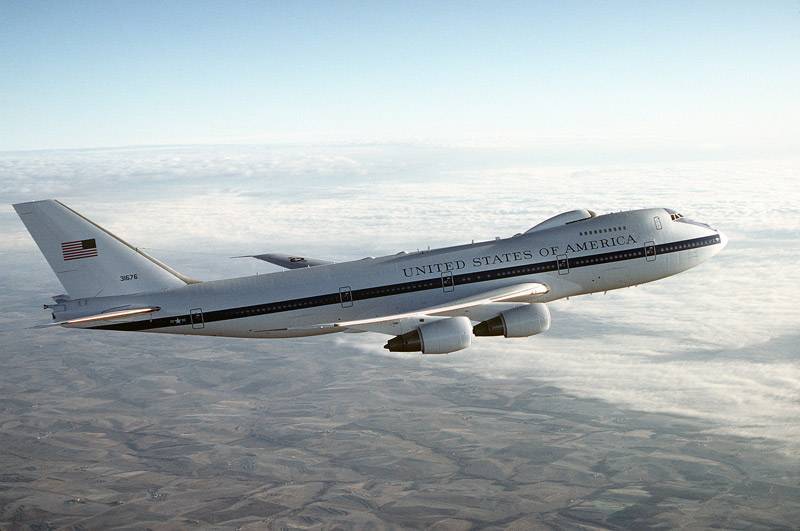 The American Doomsday aircraft Boeing E-4B Nightwatch "Night Watch" for the first persons of the United States showed from the inside. The video is posted on the AIRBOYD YouTube channel.
The video showed the zones of the upper and middle decks, in particular, the meeting room of the command. Here, every workplace is equipped with computers, communications. In these compartments you can relax, there are sleeping places. Also shown is a kitchen providing meals on board the aircraft.
Aircraft "Night Watch" (Nightwatch) E-4B created on the basis of the passenger airliner Boeing 747 (Doomsday aircraft). In the event of a nuclear conflict, it is on this plane that the President of the United States and the Secretary of Defense are supposed to be stationed. The aircraft is the command post for the leadership of the retaliatory nuclear strike and is capable of being in the air for at least a week with refueling. Since 1974, the US Air Force has four Night Watch patrols.
One of the four E-4Bs is always fully ready to take off within minutes. During the president's overseas trips, the Doomsday Aircraft accompanies him, as does the adjutant with the "nuclear suitcase". If the head of state or the head of the Pentagon is killed, there is a scenario for instant transfer of command of the troops to another senior official.
Currently, the Pentagon intends to replace immediately three types of air command posts that are in service with the US Army: Night Watch, Board Number Two, and Attack and Go. It is specified that a single air platform will be selected for this.