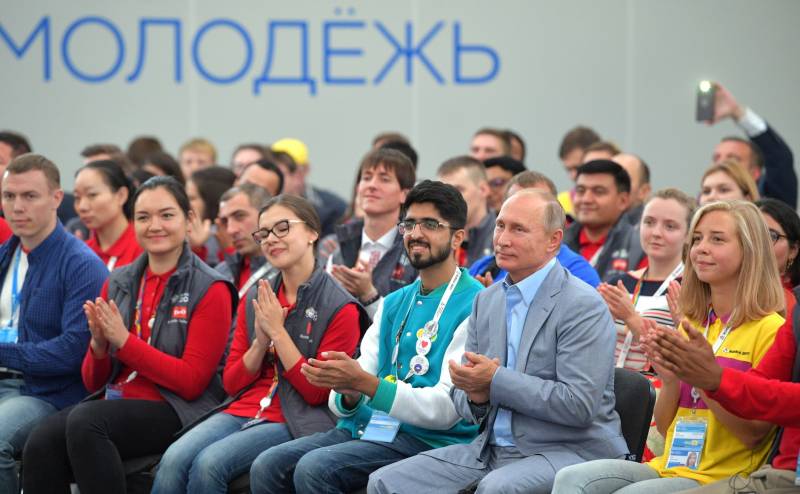 Project "ZZ".
Many Russians do not represent Russia without Putin. Many believe that it was he who put an end to the chaos of the 1990s and gave rise to an era of stability. And it's even hard to imagine today that in Russia there was a time without Putin.
Two major foreign publications decided to find out how Russians really feel about Putin, what they see in him and how they imagine Putin's era, in which an entire generation has grown and received education, as well as to identify the reasons for Putin's success in the international arena.
Forever system
Henry Foy, head of the Moscow bureau of the newspaper
Financial Times
(Great Britain) wrote a lot of material for publication and tried to objectively cover the phenomenon of "Putin's generation".
How do young Russians see the only leader they have ever known? After all, their whole life was formed under one ruler.
"What do they really think about their president?" Asked Foy.
Alexander Khazbiyev was only 5 years old when Vladimir Putin was first sworn in as the new president of Russia. In May 2018, Alexander was already 24 years old, and he attended the last inauguration of the president, a ceremony in the Grand Kremlin Palace.
This is
история
: In two decades, V. Putin has turned from an "anonymous apparatchik," the author of the article notes, into one of the most influential people in the world, and the Russian economy has grown more than six times compared to 2000.
There was another. "The country," the author writes, "entered the WTO, was expelled from the G67, invaded its two neighbors and hosted the World Cup and the Winter Olympics. Putin, now XNUMX years old, has sparred with four US presidents and five British prime ministers. "
What does the youth who grew up and received education under Putin think?
"In my opinion, there is no such period of time when Putin did not exist, when he did not exist," said twenty-five-year-old Alexander, a university lecturer who lives in St. Petersburg. According to him, today in Russia, anyone who wants to achieve something can do it. Such freedom "was guaranteed for the first time in the history of our country."
"I never stopped thinking about this country without him [Putin] as president. I am convinced that Putin as a politician is one thing ... but the system he created will always be ... Well, that's what I hope for. "
Alexander is not alone in his opinion. A generation of Russians, about forty million people, reminds Henry Foy, was born and educated in a political system that "revolves around one person." This is the "Putin generation", and it is now approaching its coming of age.
Over the past few months, British correspondents interviewed nearly fifty young people aged 18 to 25 years old (from Moscow, St. Petersburg, Siberia and other regions). As the author points out, for tens of millions of people, the only change in leadership in their lives was cosmetic - it was an "exchange of experiences designed by Putin," who ruled the country as prime minister between 2008 and 2012, and then became president again. His time in running the country was second only to Joseph Stalin's 31-year reign in the USSR, and his United Russia party never occupied less than 238 out of 450 seats in parliament.
And almost all the young Russians who spoke with British correspondents recognize the "silent contract" imposed on them by the "Putin regime." Foy formulates this contract as follows: "social stability and economic progress in exchange for a faded limited democracy."
Many young Russians not only expressed support for the only leader they had ever known, but even admired him.
True, others protested: after all, this man ruled longer than they lived in the world, and created a system in which they feel more and more helpless.
"We were born in this system, and this system is in our brains. Therefore, it is very, very difficult to even think about the possibility of changing it, "says 21-year-old Maria from the city of Taganrog.
"I'm from a military family. I grew up in a garrison town. I remember watching the broadcast [of the inauguration of 2000] and feeling the atmosphere of expectation in my family, a family waiting for change, "Alexander said in a conversation with a correspondent. "My parents were both officers," he adds, "they were not paid a salary for six months. The whole society felt that the country was betrayed. I remember: when [Putin] came to power, my mom and dad had great hopes for change. And he [Putin] did it. Everything has gone for the better. "
Until 2014, Foy notes, few would disagree with this. The Russian economy "skyrocketed" in the first decade of Putin's rule, and living standards have risen. The number of people attending universities increased by 50 percent from 2000 to 2010, unemployment among those under 25 fell by a quarter. Coffee houses and bars began to multiply, European and American brands flooded the country, rushing to satisfy their needs. Easy access to Western culture, to travel abroad ...
"The current generation of young Russians is the happiest since 1991," said Eduard Ponarin, professor of sociology at the Higher School of Economics. According to the professor, this generation is happy and apolitical. Most have nothing to worry about, but politicizing these people "will require something dramatic or very, very bad."
And yet, a new economic reality has invaded Putin's calm rule. In 2014, Russia suffered from a double shock: the collapse of oil prices and the depreciation of the ruble. Western sanctions fell on the country. In the following years, real incomes fell. According to data for 2018, youth unemployment in Russia is more than three times higher than its level among the population as a whole compared to 2000. A study conducted in October 2019 by the Levada Center showed that 53% of people aged 18 to 24 years old want to leave the country.
"There are two different worlds: one in which I live, and the other with tuples and flashing lights," says 23-year-old Vasily, who grew up in St. Petersburg. "Until life brings me to the edge, I don't want to act," he says.
"I went to Navalny's meetings with my brother and several friends," Basil admits. "I don't like their methods, they are unpleasant ... He and his people are too aggressive ..."
Tomsk is a medium-sized city in the center of Siberia. Irina, 19, says: "Many people criticize, but no one does anything ... The mentality is such that everyone should do something, but as individuals they don't want to do anything. Everyone thinks: "What can I do alone? What can I change myself? Therefore, they give up. "
"I think protest is good, it's democracy," Irina says. "But when the troops suppress these protests, that's good too." If there is no suppression, then there will be chaos. Here are the two sides of the same coin ... "
Vasily and Irina, the author believes, "speak for many." According to a national poll published in October, two-thirds of Russian students are not interested in politics.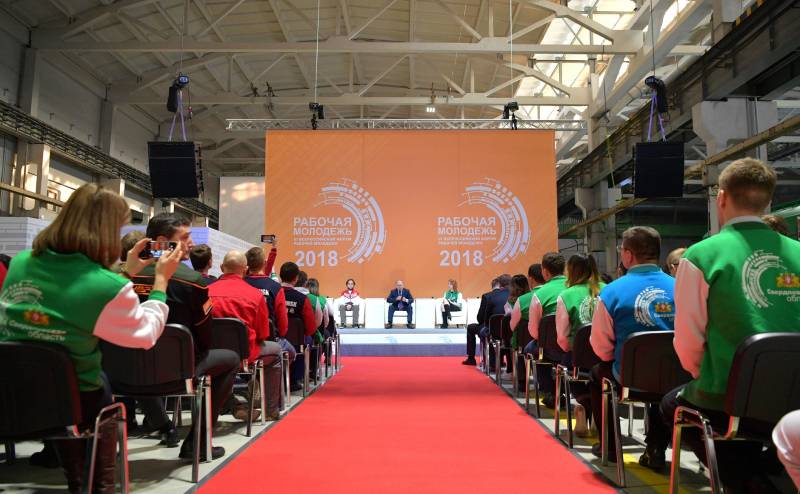 "Awfully reliable" Putin instead of the American "vacuum"
Gone are the days when people mocked Russia, the "regional power," writes Alice Bota in
Time and patience
. Putin is now much more successful in international politics than the US and the EU. Why?
The conflict between Iran and the United States. And in this situation, Angela Merkel does not fly to Washington, but to Moscow! Vladimir Putin invited her. This, of course, is the success of Russian diplomacy, writes Botha. "Whether you like it or not, this type of diplomacy, understood as a policy of pure interests, is currently quite effective," she said.
Europeans seem depressed, the US is leaving the Middle East, and Vladimir Putin is touring: meets Assad in Syria, visits Russian troops, shakes hands with Turkish President Erdogan at the TurkStream gas pipeline and plans other meetings. "In short, Russians know how to fill the vacuum that Americans are leaving internationally," the author concludes. "And the emptiness that Europeans support instead of diplomacy, too."
"Gone are the days when Obama mocked Russia as a regional power," adds Botha. And in Europe, which is still applying the sanctions regime against Russia, the Kremlin manages to "get out a little" of political isolation. Macron accepts Putin, Paris negotiates peace in Ukraine, but not without Putin's preconditions.
According to the author, there are two main reasons for Russian success.
1. Russian diplomacy is considered very professional. Russian intelligence agents can make catastrophic mistakes, but Russian diplomats are considered to be well trained and experienced. It is unlikely that any of the foreign ministers was at his post longer than Sergei Lavrov. Lavrov is comprehensive: he talks with Iraqis, Turks, Egyptians, Americans, Libyans, Chinese, Israelis, Iranians ...
2. A more important reason is connected not so much with Russia as with the weakness of other states. Europeans are preoccupied with themselves, Americans with their unpredictable president, whose Middle Eastern policy is a mistake. Where chaos and vacuum, Putin becomes strong. And autocrats in the Middle East are grateful to Putin for this "reliable power." No relationship shows this more clearly than relations with Turkey. A few years ago, Erdogan was something like an enemy of Russia, and today, despite the conflicting interests of the two states in Libya and Syria, Turkey is an important partner of Russia, moreover, on Putin's terms, Bot said.
Putin is now "terribly reliable," the journalist concludes.
* * *
Thus, it is very difficult for Russians, especially young people who have not seen another ruler in their life, apart from "castling" with Medvedev, to imagine Russia without Putin. It is this identification that is the basis of the cult of stability. And it is not for nothing that the younger generation recognizes that protests are good, but suppressing protests is also good, otherwise chaos is coming.
Kremlin without Putin? No, no one represents. Opposition victory? No, it's bad.