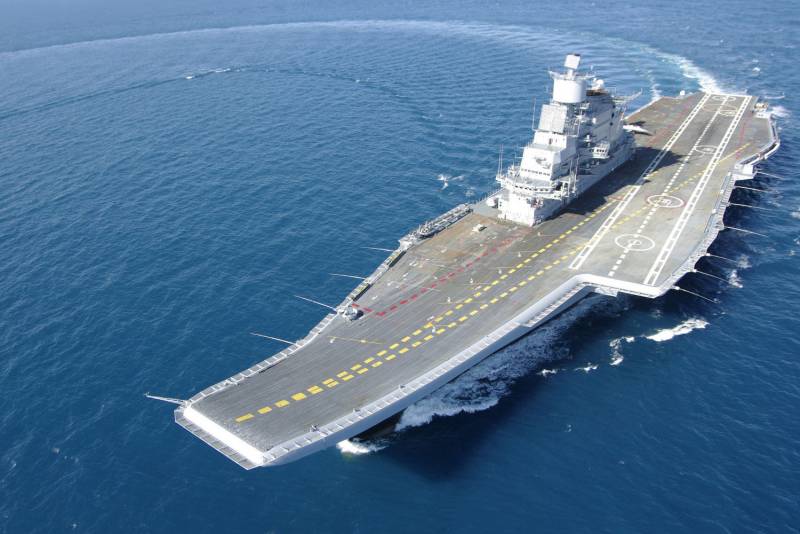 Due to Sino-Pakistani military exercises, India sent the aircraft carrier INS Vikramaditya to the Arabian Sea.
Pakistan and China on Monday began large-scale exercises in the north of the Arabian Sea. The goal of the joint nine-day maneuvers is to increase interoperability and strategic cooperation between the naval forces of the two states, The Hindustan Times writes.
The dispatch of Vikramaditya is seen as a specific message from New Delhi to its two neighbors, and even as a strategic signal. The fact is that on board the aircraft carrier, when it was deployed to follow the "strategic mission", there were "high-ranking representatives of the Naval Headquarters." This was told to journalists by "military sources" (names are not called).
Pakistan and China conduct their naval watch exercises aimed at strengthening strategic cooperation between the naval forces, at a time of increased tensions between India and Pakistan due to the Kashmir problem, the Indian publication recalls. The exercises are really large: a variety of ships participate in them, including destroyers, frigates and submarines.
Sources told the correspondent that the Vikramaditya aircraft carrier with MiG-29K fighters on board was sent to the sea "for strategic purpose." China is developing the Pakistani port of Gwadar on the coast of the Arabian Sea and is increasing its military presence in the region. This is a concern in India.
Recall that in 2015, the Pakistani government transferred one hundred and fifty-two hectares of land in the port of Gwadar to state-owned companies China Overseas Port Holding for a long lease. Purpose: organization of a special economic zone in the port.
The port city of Gwadar, through the Sino-Pakistan Economic Corridor (China - Pakistan Economic Corridor, CPEC, a tens of billions of dollars project), intends to "connect" with the Chinese province of Xinjiang. The funds in this project are invested, of course, by rich China. It is planned to build a whole network of roads and railways that will connect the Pakistani port with the Xinjiang Uygur Autonomous Region in China.
India is categorically against such an infrastructure project, because CPEC means the joint activities of China and Pakistan on the territory of Gilgit-Baltistan, and this is part of Kashmir, the disputed territory.