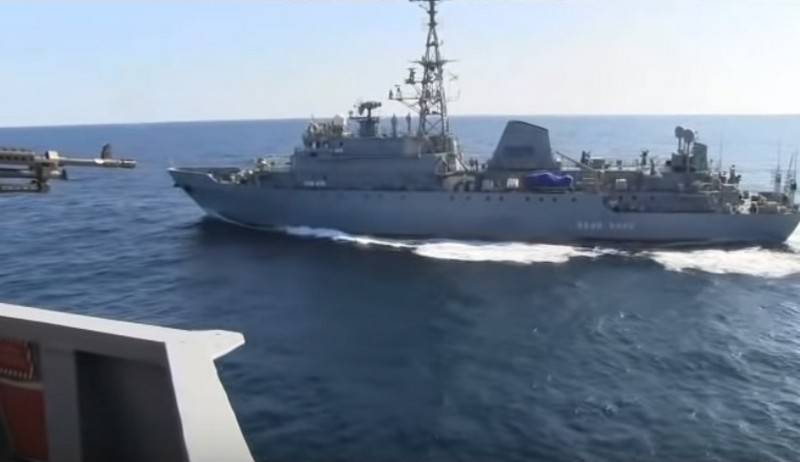 The US Navy has accused the Russian reconnaissance ship Ivan Hurs of "making dangerous proximity" with the USS Farragut (DDG-99) in the northern Arabian Sea. The American destroyer provided combat security for the nuclear-powered aircraft carrier Harry Truman. This was stated by the command of the 5th operational
fleet
USA.
On Thursday, a Russian ship made an aggressive maneuver against an American missile destroyer in the northern Arabian Sea. The Farragut was part of the carrier carrier group of the Harry Truman aircraft carrier when the Russian reconnaissance ship Ivan Hurs approached the destroyer from behind.
- said in a statement.
In turn, the Russian Defense Ministry denied the accusations of the American side, saying that there was no violation by the Ivan Khurs reconnaissance ship, namely, the American destroyer violated international rules for preventing collisions at sea.
The replicated statement by representatives of the 5th fleet of the US Navy about the alleged "dangerous" rapprochement between the Russian ship and the destroyer Farragut in the Arabian Sea is untrue. It was the US Navy destroyer, being on the left course of the Russian warship moving forward, on January 9, 2020, grossly violated international rules for preventing collisions of ships at sea, having made a maneuver to intersect its course
- declared in the Ministry of Defense
The military department accused American sailors of unprofessionalism and deliberate violation of international safety standards for navigation.
The Convention on the International Rules for the Prevention of Collisions at Sea of ​​1972, Rule No. 15 ("Cross-cutting Situation") defines: "when two ships with mechanical engines run at intersecting courses so that there is a danger of a collision, then a ship that has another on its right to the side, must give way to another vessel and in so doing, if circumstances allow, to avoid crossing the course of the other vessel along its bow "