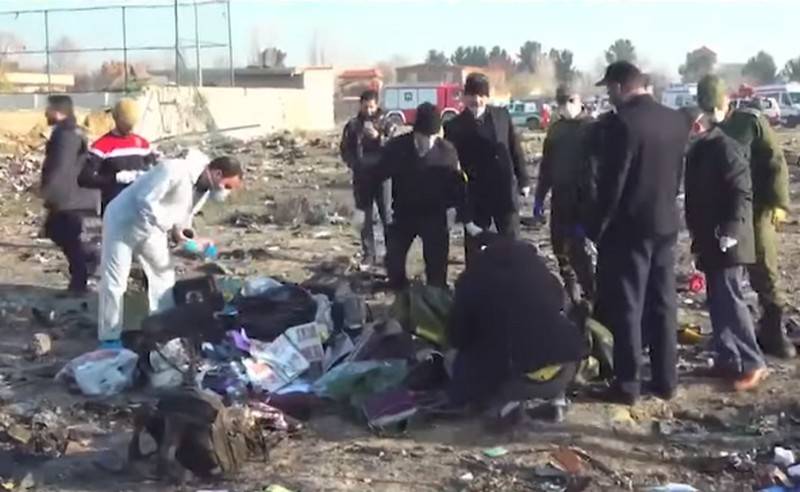 Four main versions of the crash of a passenger airliner of the Ukrainian airline Ukraine International Airlines near the Tehran international airport are considered in Kiev. This was stated by Secretary of the National Security and Defense Council of Ukraine Oleksiy Danilov.
According to Danilov, currently the following versions are being considered in the National Security and Defense Council: the defeat of the airliner by an anti-aircraft missile, including the Tor air defense missile system, the collision of an aircraft with an unmanned aerial vehicle or other object, the explosion and destruction of the engine as a result of a technical malfunction, and the explosion from the inside of the aircraft as a result act of terrorism.
At the same time, Danilov did not explain which version in the National Security and Defense Council consider priority, however, in the comments to the Ukrainian edition of "Censor.NET" (the materials of the publication were recognized as extremist and banned from distribution in Russia), he said that among the main ones was "the defeat of an aircraft by an air defense missile system, including "Tor" SAM, as information about the detection of rocket debris near the crash site has already appeared on the Internet. "
Earlier, Reuters reported that intelligence agencies in Canada, the United States and the European Union provided a preliminary report on versions of the disaster with a Ukrainian plane. According to intelligence, no external impact on the aircraft was recorded, a preliminary reason is the technical factor.
On January 8, the Ukrainian Boeing 737 airliner crashed in Tehran, with 176 people on board, 9 of them crew members (citizens of Ukraine). All flying on board Tehran-Kiev died.
At present, investigators who arrived today from Kiev have begun work at the scene of the disaster.