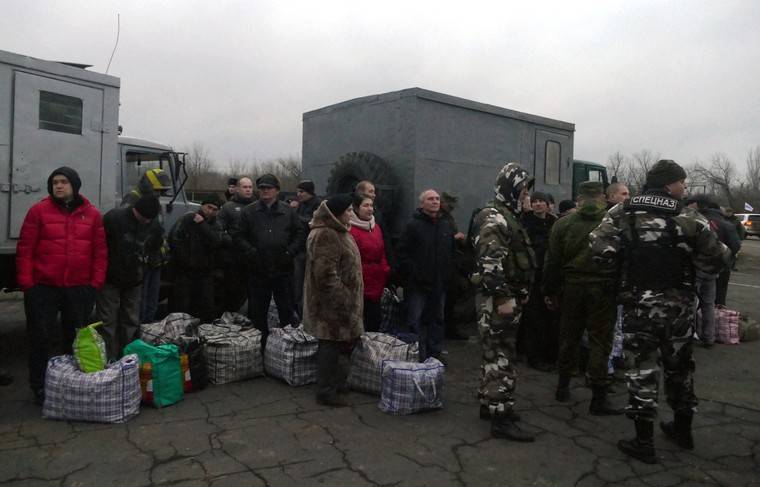 Strange turn
As recent prisoners of war ended up in Donetsk and Lugansk, local activists started talking about collecting help. People, many of whom have spent 4-5 years in Ukrainian dungeons, need almost everything, especially those who are not from the Donbass and who fought against the Maidan authorities in their cities and towns. They have in LDNR, as they say, no stake or yard.
An absolute surprise for volunteers, representatives of charitable organizations and simply not indifferent citizens was the statement of the DPR Ombudsman Daria Morozova, who stated that the citizens exchanged from captivity receive all the necessary help and do not need anything.
"As of today, all persons released during the exchange on December 29 are provided with everything necessary, namely qualified medical assistance, food, and personal hygiene items. At the end of the medical examination, for all persons who do not have their own housing in the territory of the Donetsk People's Republic, they have already prepared accommodation with all the necessary conditions, in addition, one-time financial assistance will be allocated to each person who returned during the exchange ",
- claims Morozova.
How did you help in 2018?
The past "exchange" survived largely thanks to the help of volunteers. After quarantine in medical facilities, people were resettled in dormitories. At the hospital, prisoners of war were fed, although modestly enough, and after they left the medical facilities, all help came down to rations from the International Red Cross, which they brought once every two weeks. A small supply of household chemicals, cereals, canned food - for a person with a normal appetite for about a week, although of course you can survive.
A much more serious problem was clothing, underwear and medicines. The medical institutions either didn't plan to treat prisoners of war, or they simply didn't have such a task - they were given a general diagnosis and provided with medicines according to the principle "what God sent". A full-fledged treatment took place only a few months after the exchange, and it was not easy for some who were released to live it: knocked out teeth and broken fingers, chronic bronchitis, etc. affected.
In general, before all those released received medical assistance, a small financial allowance and documents, they had to go through several difficult months. Without the care of good people, many, especially age-related ones, would not have been easy.
Why was all this?
As it became known on Monday, January 6, in Donetsk, nevertheless, they began to accept help for prisoners of war. In the LPR, officials continue to argue that hospital porridge and a rare soup will be enough for people who are released after several years in prison. Of course, I want to believe that the government's promises will not be empty words and that the suffering people will really be supported properly, that in Lugansk and Donetsk they worked on the mistakes and thought out a really full-fledged program for the rehabilitation of prisoners of war, which will ensure their successful re-socialization.
And yet it is not clear: what is all this noise for? Who cares if prisoners of war are properly fed and dressed in clean linen? If this is a security issue, then dozens of armed people will guard them in the hospital, who may well find the time to inspect the parcels with help. Honestly, other considerations do not even come to mind.
And most importantly: if loud promises again turn out to be an empty phrase, will anyone be punished for this? Or at least just apologize? Frankly: guys, we wanted, but could not?
See you soon. I want to believe in the best, but the behavior patterns of the republican officials are not yet encouraging.