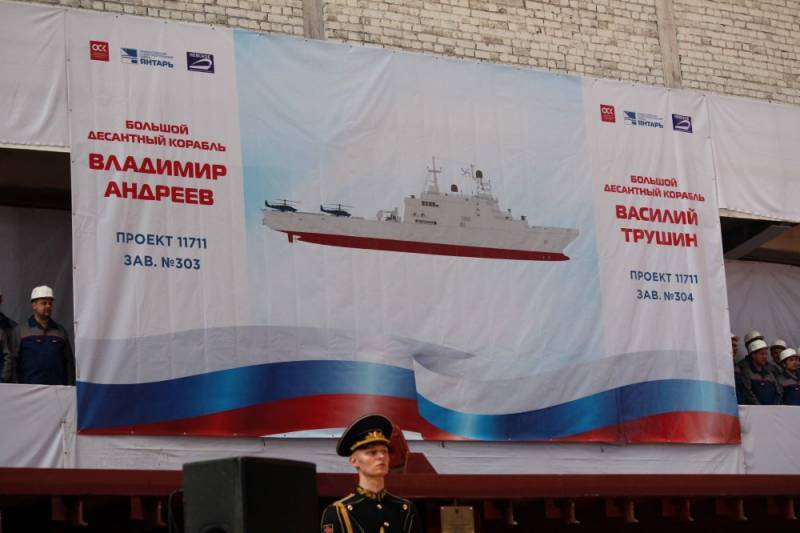 The third and fourth Ivan Gren type BDKs of the improved project 11711, currently under construction at the Yantar Baltic Shipbuilding Plant, will receive a new power plant of four 16D49 diesel engines. This was reported by Mil.Press FlotProm with reference to two informed sources, industry and
naval
.
According to reports, the BDK "Vladimir Andreev" and "Vasily Trushin" will receive a more powerful power plant compared to the first ships of this series. This decision was made due to the increase in the dimensions of the ships under construction.
The development of the diesel power plant is completed. The choice of more powerful diesels 16D49 is a reliable solution that will ensure good driving performance of the "paratroopers"
- the agency cites the words of one of the sources.
The second interlocutor confirmed the information on choosing a more powerful power plant for the new BDK and added that the Russian Navy had accumulated sufficient positive experience in operating these engines, and their serial production was established.
GEM BDK project 11711 of the first series includes diesel engines 10D49. Two 16D49 diesel engines (power of one engine - 6000 hp) are used on project 20380 corvettes, together with a reverse gear unit they are included in the DDA12000 diesel-diesel unit, designed to work on a fixed-pitch propeller. The ES of these ships includes two such DDAs.
The third and fourth BDKs increased to 6-7 thousand tons of the project 11711 displacement laid on April 23, 2019. Their construction is being carried out at the Baltic shipyard Yantar under a modified design. It is assumed that each BDK will be able to carry four Ka-52K or Ka-29 helicopters.