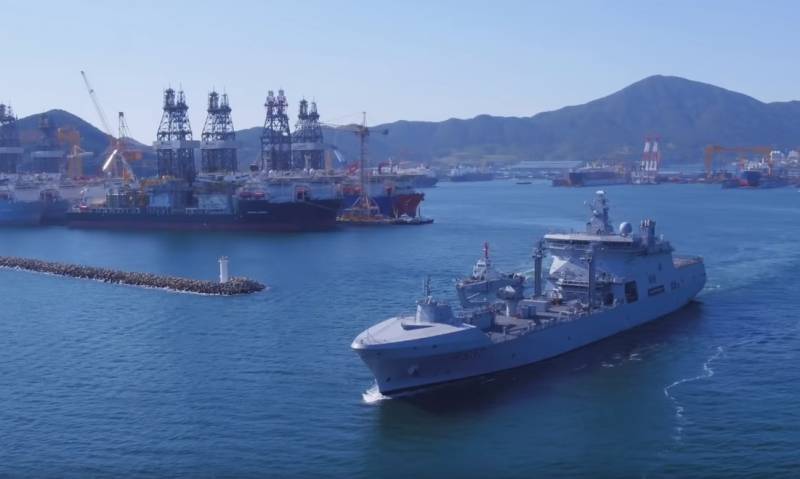 The construction of the largest ship of the Norwegian Navy required more than 10 years and approximately $ 250 million. However, after five months of service, its operation was banned.
According to Aftenposten, the latest integrated supply ship KMN Maud with a displacement of 27,5 thousand tons is capable of transporting 9,3 million liters of fuel, as well as 400 tons of cargo, including ammunition; It has its own workshop, a hangar for two helicopters, an operating room and a hospital with 44 beds.
In May, he was baptized. But now it will not be able to go to sea at least until the second quarter of 2020, until malfunctions and shortcomings are eliminated.
The Norwegian certification organization DNV GL banned the use of the ship due to the fact that it poses a danger to the crew. The inspectors found the unsatisfactory condition of the material and technical base and the lack of proper maintenance.
Experts believe that this was caused by a two-year downtime at the pier of the South Korean shipyard Daewoo Shipbuilding & Marine Engineering shipyard, which barely survived bankruptcy. During this time, the ship was not given proper "care".
It's very disappointing that the ship should be moored in just five months
- said the head of the parliamentary committee on foreign affairs and defense Anniken Whitfeldt, who had already become his godmother.
In her words, this promises problems for combat potential.
fleet
amid the loss of the frigate Helge Ingstad, which will go to scrap after a collision with a tanker.
As Stole Ulriksen of the Naval Academy notes, the temporary loss of KMN Maud is a blow to "Norway's great ambitions to contribute to NATO forces." According to him, more frigates cannot do without a supply ship, and a smaller number is unacceptable, because you need to "monitor what the Russians are doing":
We never know when the Russians will sail, and then the frigates must be ready.