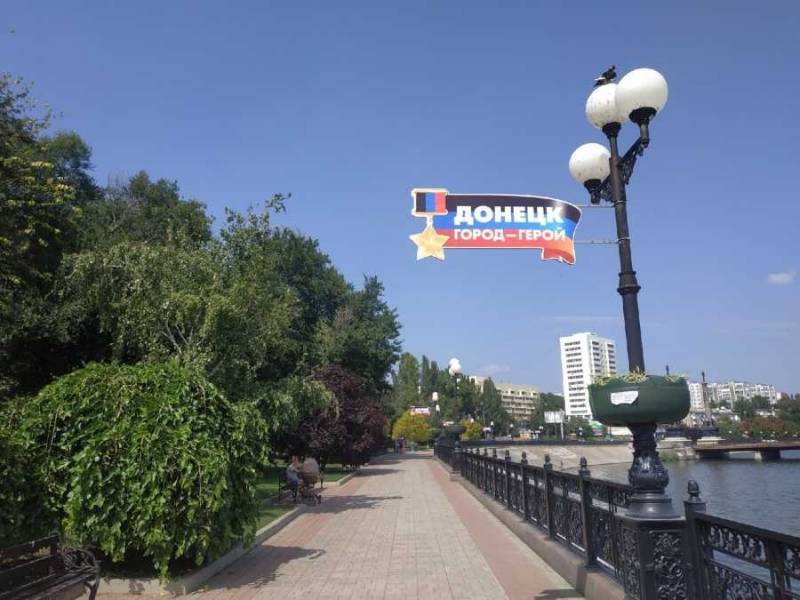 Hand recognition
Dear readers! Observing the evolution of authorities in LDNR, the author does not experience the slightest emotion. Tears in the eyes do not well, breathes evenly, the spark of love in the soul at the sight of Pushilin or the Pasechnik does not light up. There is not the slightest illusion regarding the entire apparatus from top to bottom: our officials are inexperienced, their initiatives are mostly nightmare, they are lazy and often stupid. It is likely that if they have the opportunity to steal, they will take advantage of it. In general, it is clearly not the angels who rule the republics.
And yet, the author at the same time does not hate all these people. At least simply because any power (like any person) in one way or another suffers from typical vices. And besides money-grubbing, laziness and stupidity, there is still an objective reality: no government can be good for everyone at the same time (for example, complaints of repression usually follow immediately after the start of an active fight against corruption) and a priori is unable to satisfy all the needs, fantasies and ambitions of citizens . Thank you and if the basic satisfies.
Therefore, the authorities of LDNR (Russia, China, Zanzibar, etc.) must be criticized and point out narrow points and mistakes. And as long as the authorities adequately respond to constructive criticism, it deserves a certain leniency to its mistakes. True, sometimes, instead of healthy criticism, one has to face an irreconcilable, furious and irreconcilable struggle in general with any manifestations of power structures.
New ones will be better
Unfortunately, there is a certain category of citizens who have a pathological hatred of the authorities, who dare to ignore the requirements right now to correct in all directions and do well for everyone, but first of all for specific Andrei Petrovich. More recently, in LDNR, individual citizens emanated foam from hatred for Zakharchenko and Plotnitsky, citing dozens of imaginary and real reasons for this. Today, Zakharchenko, in the same resources, in the mouths of the same non-worthy bloggers and just network warriors, became a saint, and Plotnitsky received indulgence. Now citizens are shaking in the paroxysm of hatred for Pushilin and the Pasechnik. It will probably shake until new governors come to replace them.
To be honest, the current government in LDNR is definitely more adequate than its predecessors, if only because it has very real chances not to repeat their fate. There is also some optimism about their followers: they are likely to be even more adequate. And this is clearly appreciated by higher authorities, which in only one year 2019 made it possible to obtain Russian citizenship, raise salaries and pensions twice (the next increase is due on January 1) and solve a number of important pressing issues.
However, there are many people for whom the Kremlin's opinion is not credible, but LDNR are betrayed and sold back in 2014 and are now inhabited by ghosts. Probably, these citizens should immediately move either to Ukraine, or to the USSR (which they destroyed with such enthusiasm), or to the Russian Empire (which they tore apart with even greater enthusiasm), or to fabulous Shambhala, where everyone is well and no one is sick.
Maidan of the brain
To this day, historians and philosophers argue where the passion for Russian people came to despair out of the blue from the imperfection of what is happening, to tear down the existing one, send congratulatory telegrams to the Mikado and then plunge the whole country into chaos. This phenomenon was very clearly visible in Ukraine during the Maidan, when a country living relatively prosperously suddenly froze in the sweet anticipation of sudden wealth. The result is an economy at the level of African countries, a civil war, the loss of territories and nostalgia for the good old "bloody panda."
It is noteworthy that similar sentiments in LDNR become more precisely as life gradually improves and leisure and security guarantees appear. And you can burn out all your free time from righteous anger at the computer. Moreover, the loudest moans and accusatory curses come from the deep rear or from Russia, where the afflicted moved to permanent residence in previous years.
There is a suspicion that as the situation in the republics stabilizes and the real incomes of the population approach the incomes of the residents of the conventional Kursk or Tula, the number of sufferers and the degree of their torment will only grow. And there will be no reassurance to them, even if each resident of LDNR is issued a personal limousine with a driver. Because the rulers and circumstances are changing, but there are new (or old ones come to life) reasons for whining: New Russia is being drained, the forest is burning, the borders are being given to Ukraine and the Chinese, Baikal is being drunk ... And there is no rest for them.
And under these frantic groans, the rest of the population continues to work hard, make their way through obstacles, improve themselves, if necessary, defend their rights and struggle with circumstances - in general, they live a normal life and try to make it a little better for themselves and others.