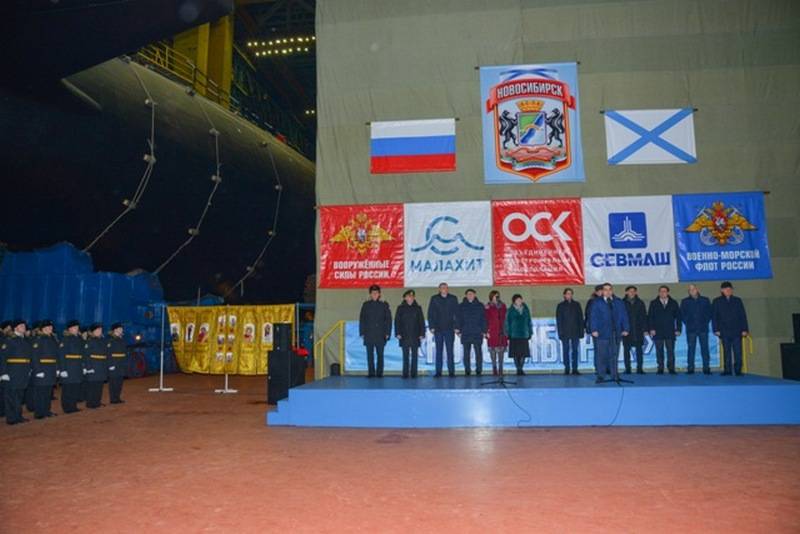 The first serial nuclear submarine of project 885M "Ash-M" launched. The solemn ceremony of removing the K-573 Novosibirsk submarine from the boathouse was held at Sevmash in Severodvinsk. This was reported by the press service of the Ministry of Defense.
The development of the nuclear submarine component of the Naval
Fleet
is a priority and is in the field of constant attention of the High Command of the Navy. The crew of the Novosibirsk submarine underwent comprehensive training at the training center of the Navy and is ready to master the latest technology and weapons
- said the Commander-in-Chief of the Russian Navy, Admiral Nikolai Evmenov, present at the ceremony.
The Novosibirsk nuclear submarine is being built according to the modernized Yasen-M project. It is the second in a series and the first production submarine of this project. Laid on Sevmash on July 26, 2013. According to the plans of shipbuilders, the submarine will be transferred to the Russian Navy in the next, 2020.
Compared to Project 885 Ash, the new submarine received many improvements and new systems not previously used on submarines. Submarines of the Ash-M project have a displacement of 13800 tons, a depth of immersion of 520 meters, a crew of 64 people, autonomy of 100 days, an underwater speed of 31 knots. They are armed with mines, torpedoes of 533 mm, Caliber and Onyx cruise missiles, and in the future hypersonic Zircon missiles.
At present, the Russian fleet has the service of the K-560 Severodvinsk submarine of the Yasen project, and it became part of the Navy on June 17, 2014. The main submarine of the Yasen-M project Kazan continues to undergo a test cycle to eliminate deficiencies, identified earlier. It is assumed that its transfer to the fleet will also take place in 2020.
In addition to the Kazan and Novosibirsk submarines, the Krasnoyarsk and Arkhangelsk submarines are being built under the modernized project 885M (Yasen-M).