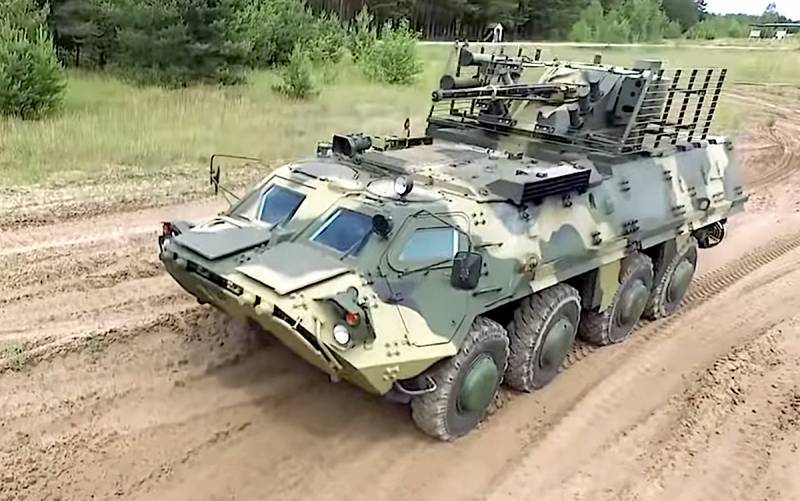 Ukrainian media reported that the state-owned company Ukroboronprom renewed the purchase contract for the needs of the Armed Forces of Ukraine 45 BTR-4E. This is a contract with which a huge scandal was connected in Ukraine. Initially, 48 armored personnel carriers were prescribed in the contract.
As previously reported in the news bulletins, "Military Review", the State Enterprise "Kharkov Design Bureau of Mechanical Engineering" purchased steel that was not suitable for a number of parameters to create armored vehicles. As a result, it turned out that instead of Ukrainian-made steel, foreign steel was purchased according to a very complicated scheme to create the BTR-4E. In the course of the proceedings, it was possible to establish that the steel was not Ukrainian, but Finnish, and it went through a Polish company, "laying."
After some time, it turned out that the subcontractor represented by the Lozovsky factory failed the order, having produced, instead of 48 armored personnel carriers, less than half - 20 units.
Now, as reported, the implementation of the contract in Ukraine has been resumed. It is alleged that the military acceptance has signed acts on the transfer of 12 BTR-4E APUs. These machines were sent to the 92nd ombu APU. The message stated that "it remains to transfer" 33 armored personnel carriers. These armored vehicles, according to reports, will go to the Ukrainian army until the fall of 2020.
Ukrainian reporters write that resuming the implementation of the contract "will support Kharkiv production." The fact is that at a Kharkov enterprise (named after Morozov) for several months no salary was paid, the equipment was idle due to the fact that the service provider turned off the electricity: the workshops, according to the workers themselves, were more like "cold rooms".