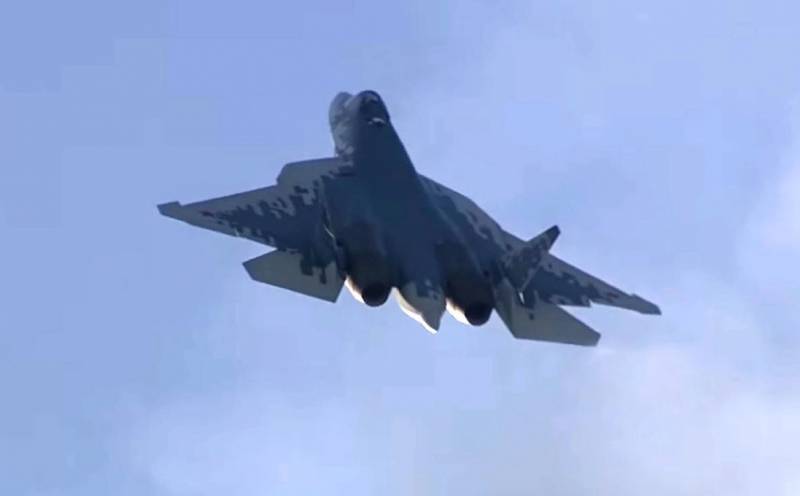 In the Chinese media, they told their readers that Russia conducted another combat test of the 5th generation Su-57 fighters in Syria. Earlier these tests were reported by VO.
Chinese observer Zhang Diancheng decided to conduct a small comparative analysis of the situation in which the Su-57 Russian Air Force and F-35, for example the Israeli Air Force, could "meet" in Syrian airspace. "What happens if such a meeting takes place?" The Chinese expert asks. In this case, the issue is considered exclusively through the prism of air combat.
From the material:
As we all know, the huge advantage of a fifth-generation fighter is the implementation of the latest means of detecting enemy aircraft, attack and destruction tools using advanced weapons control systems, avionics. A huge role is played by long-range air-to-air missiles. F-35 and Su-57 fighters use radar with AFAR and infrared search and tracking systems. At the same time, according to some reports, the Su-57 radar is more powerful, and its detection range exceeds the detection range of the F-35.
Zhang Diancheng notes that the Su-57 would have an advantage in maneuverability and use of weapons when "meeting" the F-35 in case of real air combat. However, according to a Chinese expert, the Su-57 has "serious vulnerability" - the actual absence of "stealth" coverage - such as that of an American-made aircraft.
Therefore, the author concludes, the Su-57 has more chances to win in close air combat, and in the case of long-range combat, F-35 is preferred. It is emphasized that the comparison takes place only if we take into account the same training of pilots.
Zhang Diancheng:
Although the F-35 fighter can fly at an angle of attack of 50 degrees, it cannot carry out a combat turn. In turn, the Su-57 has excellent maneuverability, which guarantees him an advantage in close combat.
The Chinese expert notes that neither in the American nor in the Israeli media did not appear materials about the next stage of the Su-57 tests in Syria, which is an indicator of intelligence ignorance.