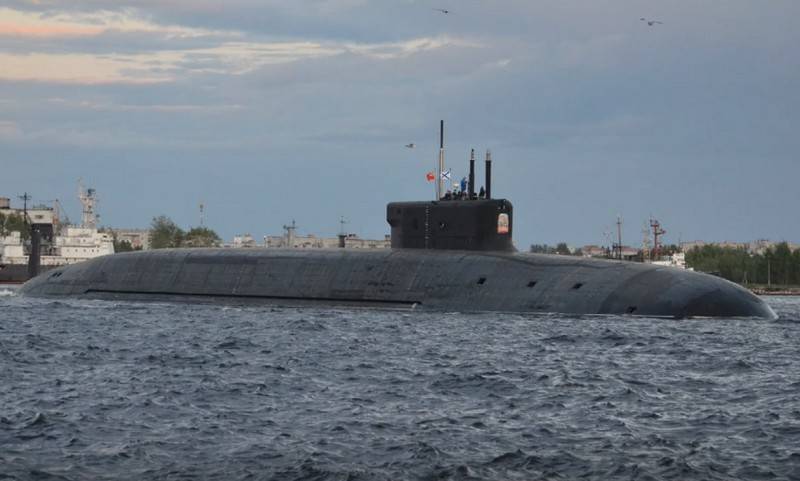 In 2020, Sevmash plans to supply Russian
the fleet
four nuclear submarines of different designs. Currently, the company is preparing a nuclear submarine strategic missile cruiser of project 955A (code "Borey-A") "Prince Vladimir", which has completed state tests, for transfer to the Navy. This was stated in an interview with TASS by the head of the enterprise Mikhail Budnichenko.
The general director of Sevmash, summing up the results of 2019, said that the company is preparing by the end of the year to transfer the project 955A (Borey-A) to the Naval Forces of the Russian Federation and the withdrawal of the project nuclear submarine Novosibirsk from the boathouse. "Ash-M".
The company is preparing for the transfer to the Russian Navy of the latest fourth-generation strategic missile carrier Prince Vladimir, as well as for the withdrawal of the nuclear submarine Novosibirsk from the boathouse (Yasen-M project)
- he said, adding that the company is building two groups of fourth-generation nuclear submarines.
Earlier, the military department reported that the APKSN "Prince Vladimir" will join the Navy before the New Year, "under the Christmas tree."
Talking about Sevmash's plans for the next year, Budnichenko said that in 2020 the company plans to transfer four nuclear-powered submarines to the Russian Navy.
In 2020, we must transfer four nuclear submarines to the fleet: the Belgorod nuclear submarine, the strategic missile submarine of project 955A Prince Oleg, and the two Kazan and Novosibirsk multipurpose nuclear submarines of project 885M.
- He said.
Earlier, the Ministry of Defense announced the receipt in 2020 of six submarines at once. Four diesel-electric ones should be joined by two diesel-electric ones (Volkhov project 636.3 for Pacific Fleet and the first production submarine project 677 Kronstadt). The last time the Navy was replenished with a large number of submarines in 1992.