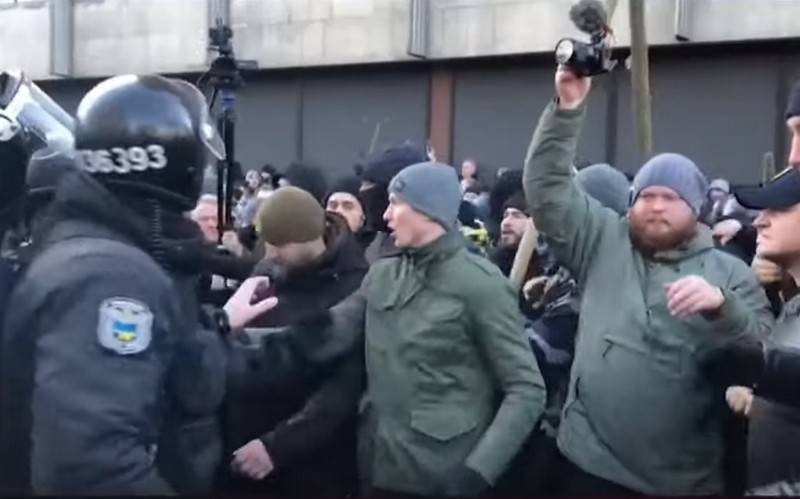 In Ukraine, the third Maidan may take place if the country's authorities adopt a scandalous law on land and on the special status of Donbass. This was stated by Major General, former head of the Main Investigative Department of the SBU Vasily Vovk on the air of the portal "Politeka".
The adoption of the law on land and on the special status of Donbass may provoke another Maidan, as evidenced by the recent clashes between protesters and law enforcement officers near the Verkhovna Rada in Kiev. According to Vovk, subsequent such clashes may become a "bomb" for the new Maidan.
There are reasons to think about this, given what difficult issues the land market and the special status of Donbass
- said the general, adding that the protesters showed the authorities that they are able to organize riots in the event of the adoption of scandalous laws.
Earlier it was reported that on Tuesday near the building of the Verkhovna Rada there were skirmishes between the protesters and the forces of law and order. Protesters opposed the bill on the sale of agricultural land. During the clash, the police threw stones, 23 law enforcement officers and 11 citizens were injured. Kiev law enforcement officers transferred to an enhanced mode of operation.
Over the past day, December 17, during mass rallies, 23 law enforcement officers were injured - 17 police officers and six guardsmen. Twelve police officers and five guardsmen were taken to medical facilities. Guard officer is now in serious condition
- said the First Deputy Minister of Internal Affairs of Ukraine Sergey Yarovoy.