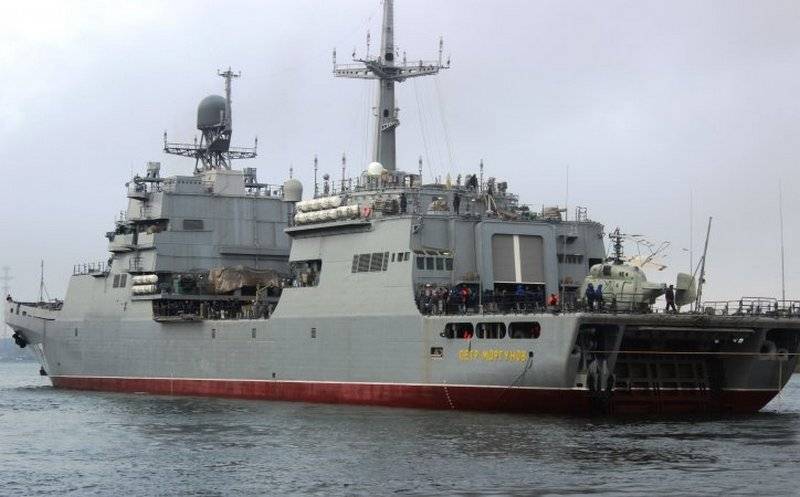 The large landing ship of the 11711 project "Peter Morgunov" began factory sea trials. The ship entered the waters of the Baltic Sea. This was reported by the press service of the Baltic shipyard "Yantar".
Factory sea trials of the BDK "Peter Morgunov" will be combined with the passage of state ones. This decision was made in consultation with the Naval
fleet
Of Russia. On the ship, in addition to the crew, there is a delivery team of the Yantar Shipyard. During the test, all systems and mechanisms of the ship will be checked. At the end of the test, the ship will be transferred to the Russian Navy.
According to the plans of shipbuilders, the Peter Morgunov BDK will be transferred to the customer in the first quarter of 2020, and not until the end of this, as previously planned.
Earlier it was reported that in the first decade of December BDK will move from Kaliningrad to the delivery base in Baltiysk, where a test cycle will pass in the Baltic Sea before being transferred to the customer.
BDK "Peter Morgunov" is the second ship of the 11711 project and the first serial after the lead BDK "Ivan Gren". Laid down in June 2015 of the year and launched on 25 on May 2018 of the year. The construction of the ship was carried out with delays, since it was necessary to correct the mistakes made in the design of the lead ship. The head "Ivan Gren" was laid in the 2004 year, launched in the 2012 and transferred to the fleet only in the 2018 year.
At present, the Yantar Shipyard is constructing two more BDKs, laid down in April for the improved 11711 project - Vladimir Andreev and Vasily Trushin. The deadlines for the delivery of ships are defined in 2023 and 2024 years.
BDK 11711 is the latest development of Project 1171, according to which in 1960-1970 the Yantar Shipyard built a series of 14 ships. The ship can accommodate 13
tanks
or more than 30 armored personnel carriers and infantry fighting vehicles. The BDK also provides for the deployment of a reinforced battalion of the Marine Corps, as well as the temporary deployment of various types of ship helicopters. The ship has a cruising range of 4 thousand nautical miles, which allows you to perform tasks in the far sea zone