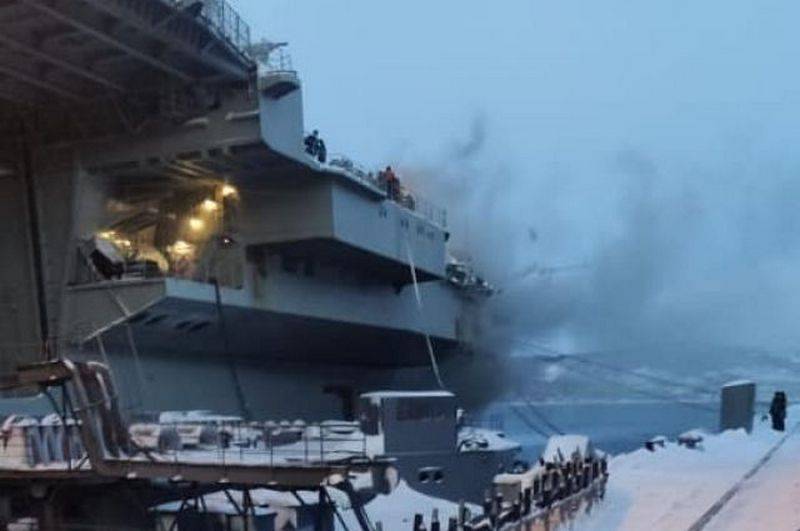 The search operation at the Admiral Kuznetsov Tavkr is over, the rescuers discovered the body of the second survivor of the fire - an officer of the ship's survivability service. This was reported by the press service of the North
fleet
.
The death toll during a fire on the Admiral Kuznetsov aircraft carrier cruiser increased to two. Rescuers who examined the ship's premises after the final elimination of the fire found the body of the deceased officer in the emergency compartment of the ship. Earlier in one of the premises was found the body of a contract serviceman who died in the struggle for survivability of the compartment.
The officer of the survivor of the cruiser "Admiral of the Soviet Union Kuznetsov", the search for which did not stop from the beginning of the emergency, died. A soldier was discovered by a search team in the emergency compartment of the ship
- said in a statement.
Earlier, the headquarters of the fleet reported that the officer from the survivability of the ship at the very beginning of the fire decided to go down to the site of the welding work to evacuate the people there.
Currently, the search operation has been completed; the cruiser continues to drain the inside of the ship's emergency compartment.
A criminal case was opened on the fact of a fire on the aircraft carrier Admiral Kuznetsov on the grounds of a crime under Art. 216 of the Criminal Code of the Russian Federation (violation of safety rules during construction or other works).