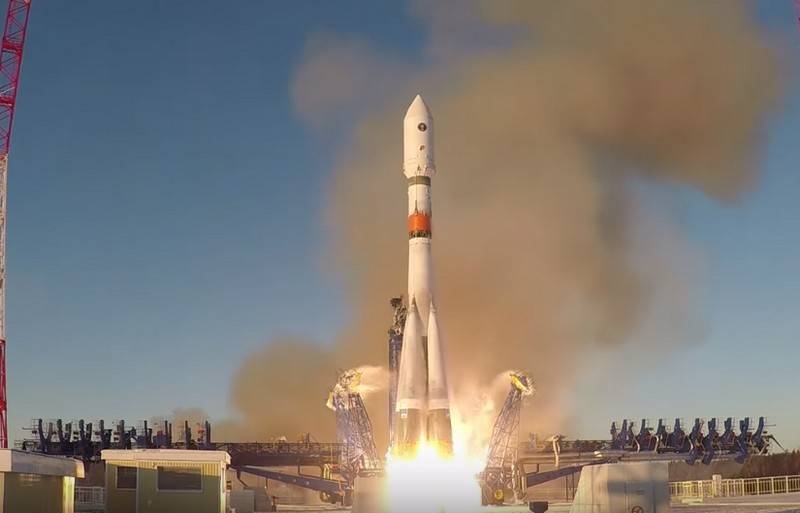 Launch of the Soyuz-2.1b launch vehicle with the Plesetsk 11.12.19 satellite
The Russian Aerospace Forces (VKS) took control of the Glonass-M navigation satellite, launched on Wednesday, December 11 2019, from the Plesetsk Cosmodrome. It is reported by the Russian Ministry of Defense.
According to the military department, the Soyuz-2.1b launch vehicle with the Glonass-M satellite was launched from the Plesetsk cosmodrome at 11.54 Moscow time. vr. After a set time, the Frigate upper stage with the spacecraft, which launched the satellite into the calculated orbit, separated from the third stage of the rocket. As noted in the Ministry of Defense, the launch of the rocket and the launch of the satellite into orbit took place as usual. Currently, a stable telemetric communication has been established and maintained with the satellite, its on-board systems are functioning normally.
The Russian navigation spacecraft Glonass-M, launched today from the Plesetsk cosmodrome by the combat crew of the Space Forces of the Space Forces, was put into target orbit at the estimated time and taken into control by ground-based facilities of the G.S. Titov Space Forces VKS
- said in a statement.
The orbiting Glonass-M satellite will become 28 in the orbital constellation. Now Russia has 27 spacecraft, of which 22 is used for its intended purpose, one is in the flight test phase, another is in reserve, and three are in maintenance.