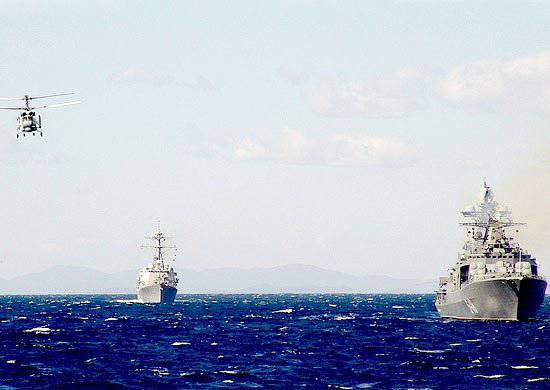 In the operational square of the exercise, a detachment of Pacific warships
fleet
(OBK Pacific Fleet) was sent as part of a joint warrant with US naval ships, which received the name of the 170th operational formation. The American ships — the destroyer "Port Royal", the patrol ship "Bertholph" and the frigate "Gary" —went parallel with the OBK Pacific Fleet.
While moving to a given point of connection, the combat fulfilled the combat maneuvering and reflection of the air attack of the conditional enemy. According to the plan of the exercises, an international detachment was attacked by the Canadian Air Force. F-18 aircraft made a massive raid in pairs and separate groups on the ships of the warrant. Distinguished Pacific gunners. They were among the first to find the air "enemy" and carried out its conditional destruction.
On the way to the area of ​​artillery firing, the ocean tug "Fotiy Krylov" took the Gary frigate into tow, conditionally losing its course. The rest of the ships conducted exercises under the code name "Leapfrog" with elements of joint maneuvering and overtaking each other. After that, two-hour synchronized artillery firing at a naval target was conducted.
In the next two days, the ships will replenish their stocks by wake and will continue exercises on disembarking inspection teams from helicopters.
The international Rimpak exercises are traditionally held at 23 once every two years, but the Russian ships participate in them for the first time. 45 ships and vessels of various classes, 100 airplanes are involved in these exercises, more than 20 thousand troops from 22 countries of the world take part.