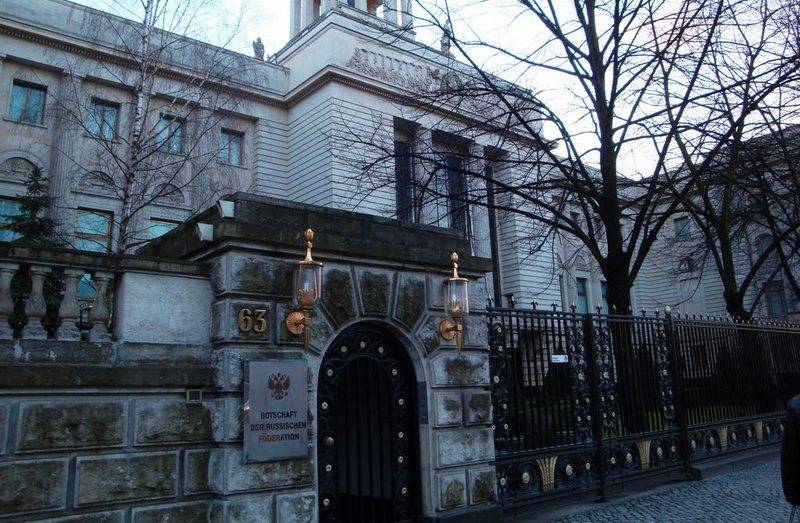 The building of the Russian Embassy in Berlin
Germany will send two employees of the Russian embassy in response to the murder of a Georgian citizen in Berlin. The German Foreign Ministry has already declared two Russian diplomats persona non grata.
According to a statement by the German Foreign Ministry, such a reaction was followed by the alleged refusal of the Russian side to provide "sufficient assistance" in the investigation of the murder that occurred in Tiergarten Park in Berlin this August, despite "repeated and persistent demands."
With this step, the federal government responds to the fact that the Russian authorities, despite repeated high-level and decisive requests, did not take sufficient part in the investigation of the Tornike K. murder in Berlin Tiergarten on 23 on August 2019. (...) There is sufficient factual evidence that the murder was committed either by order of the state bodies of the Russian Federation or those of the authorities of the autonomous Chechen Republic within the Russian Federation
- stated in the German Foreign Ministry.
According to Der Spiegel magazine, both diplomats who worked at the Russian embassy in Berlin and declared persons non grata are actually members of the Russian special services. Now they must leave Germany within seven days.
Russia has already responded to the expulsion of diplomats and said that the Russian Foreign Ministry will respond in a mirror.
Earlier it was reported that a citizen of Georgia of Chechen nationality Zelimkhan Khangoshvili was shot dead in the Maly Tirgarten park in the center of Berlin on August 23. He was a field commander during the second Chechen war. In Russia, he is wanted as a terrorist. He lived in Germany since 2015, hiding there after another assassination attempt in Georgia. The alleged killer was detained in Berlin on the same day, he turned out to be a man with a Russian passport in the name of Vadim Sokolov.
German federal prosecutors said the authorities in Russia or Chechnya could be involved in the murder.