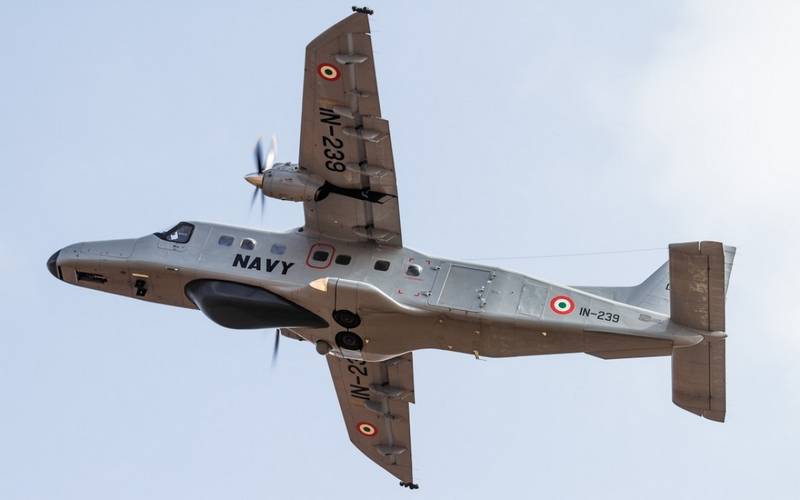 The Indian Navy formed the sixth squadron of Dornier 228 marine reconnaissance aircraft. The ceremony was held at the Porbandar Air Force Base in northwestern India on 29 this November, the country's Ministry of Defense said.
The new Indian Naval Air Squadron (INAS) 314 squadron, also known as the Predators, has received licensed 12 Dornier Do 228 aircraft. The machines were manufactured at the Hindustan Aeronautics Limited (HAL) company in Kanpur, where these aircraft are manufactured from 1984.
The main task of the squadron is aerial surveillance of the northern part of the Arabian Sea.
The purchase of twelve modernized Dornier Do 228 reconnaissance aircraft in the interests of the Indian Navy was announced in November 2016.
The Do-228 version of the marine patrol aircraft was modified by HAL to meet the requirements of the Indian Navy, including equipping radar detection, infrared front view system (FLIR), electronic intelligence system (ESM), satellite communications, data transmission, secret communication system, warning system Earth Hazardous Approach (EGPWS).
The Do-228 is a twin-engine turboprop aircraft with a three-post landing gear retractable in flight. The double crew cabin is equipped with dual controls. The fuselage has a rectangular cross section. The length of the aircraft is 16,56 m, the wingspan is 16,97 m, the maximum take-off weight is 6400 kg, and the maximum cruising speed is 428 km / h. In the transport configuration, the machine is designed to carry 19 passengers. An airplane can take off from a runway of 700 m length and land on a runway of 575 m length. Four wing suspension units allow transporting an external load weighing up to 1030 kg.