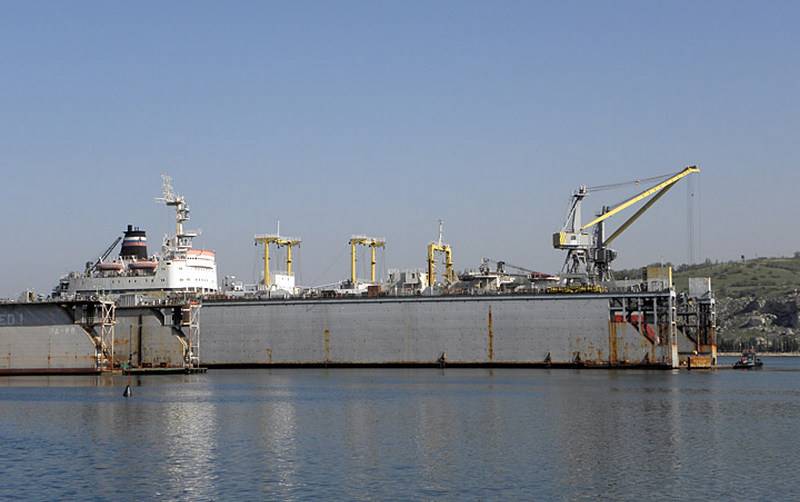 PD-30 of the Mosser project loading capacity - 29300 tn. 2013 photo of the year
Sevastopol 13th Shipyard of the Black Sea
fleet
I received two floating docks - small and medium. In the near future, two more are expected to be transferred, including a large one. This was reported by the press service of the enterprise.
The act of transferring the PD-80 and PD-8 floating docks from the 91 shipyard to the 13 shipyard was signed by Black Admiral Igor Osipov, commander of the Black Sea Fleet. Earlier, the crews of the floating docks consisted of representatives of the 91 shipyard, although specialists from only the 13 plant were working on them.
The Commander of the Black Sea Fleet, Vice Admiral Igor Osipov, signed an act transferring two floating docks to the plant - PD-80 and PD-8. This is a very significant step towards the formation of the dock site, which will become the most important production site of the leading ship repair enterprise in the South of Russia. In the future, the plant will include two more docks, including the PD-30, the most lifting in our region
- said in a statement.
The transferred docks are the OS-138 test vessel and the 1239 project lead ship - the Bora small hovercraft and the Alrosa submarine.
Earlier it was reported that the 13 shipyard of the Black Sea Fleet will be part of the South Center for Shipbuilding and Ship Repair of the United Shipbuilding Company (USC). This is expected to happen in February next year.