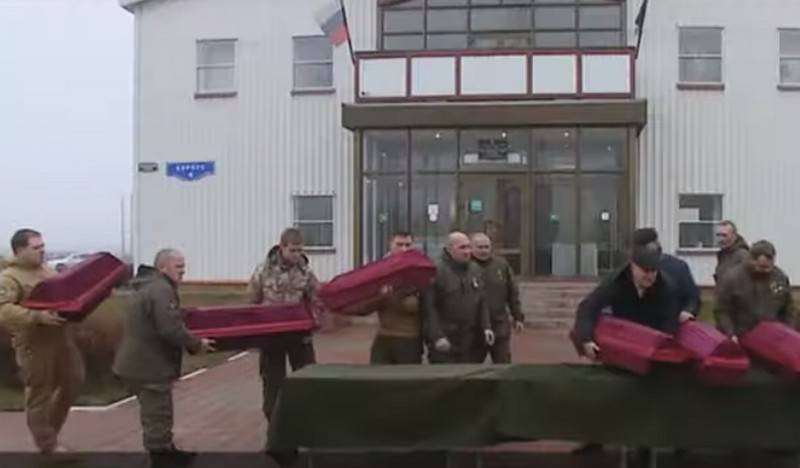 The remains of seven fighters of the Red Army were handed over by Ukrainian search engines to their Russian colleagues on the Russian-Ukrainian border at the multilateral automobile checkpoint Nekhoteyevka, Belgorod Region.
The ceremony of transferring the remains of seven fighters of the Red Army, discovered in 2018 and 2019 years, took place. On the Russian side was the Search Movement of Russia, on the Ukrainian side, the People's Memory Union
- The Belgorod Customs said in a statement.
It is noted that the Ukrainian search engines from the public organization "Union" People's Memory "managed to establish the names of all seven dead Red Army soldiers.
The event is very significant, because for the first time such a large number of soldiers are transported from the territory of Ukraine for reburial to their small homeland. At present, the leadership of the search union "People's Memory" of Ukraine is taking it out, to which we attach special importance to this. (...) and more than one soldier will return home (...)
- said Anton Tordashev, adviser on international cooperation of the all-Russian public movement Search for Russia, adding that in recent years Russia has transferred 40 remains for the reburial in Ukraine, 160 remains have been transferred from Ukraine to Russia.
After the transfer ceremony, the remains of the Red Army soldiers were taken to the Moscow region, where today, December 1, at the Federal Memorial Cemetery of the Ministry of Defense, representatives of the Search Movement of Russia organization will hand them over to their relatives and representatives of their regional offices for burial in their small homeland.