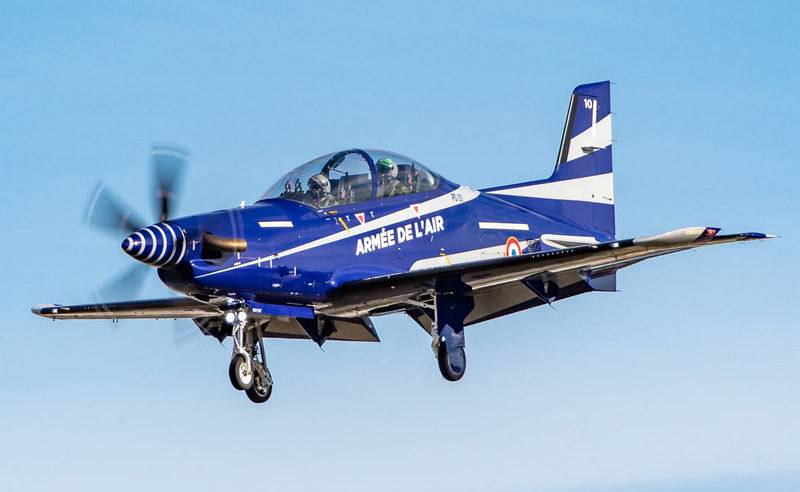 Training aircraft PIlatus PC-21 French Air Force
The Spanish Air Force buys the 24 turboprop training aircraft PC-21 manufactured by the Swiss company Pilatus Aircraft. This is stated on the Spanish public procurement website.
According to the agreement, the Spanish Air Force will receive the first six aircraft and one ground simulator in March 2020 of the year, and the delivery of all 24 machines should be completed by the end of the 2022 of the year. In the Spanish Air Force, the PC-21 aircraft will receive the designation E.27. The contract value is 204,75 million euros.
The Spanish Ministry of Defense said that the RS-21 turboprop aircraft will replace the CASA C-101EV Aviojet Spanish-made 1980-produced Spanish combat training aircraft currently used as the main preparation stage at the Spanish Air Force Academy (Academia General del Aire - AGA ) in San Javier. The thing is that C-101 is not only outdated, but also close to a complete exhaustion of the resource, which has already led to a number of crashes and deaths of instructors and cadets of the academy. The military department decided to completely cease operation of the C-101 aircraft by September 2021 of the year.
The RS-21 aircraft was selected by the Spanish Ministry of Defense following a tender in which Beechcraft T-6C Texan II, Embraer EMB-314 Super Tucano and KAI KT-1 turboprops were also attended. One of the factors of victory for this aircraft is its low cost compared to competitors.
Spain has become the ninth state to order the supply of Pilaus PC-21 aircraft. In total, 219 RS-21 aircraft have been built to date.