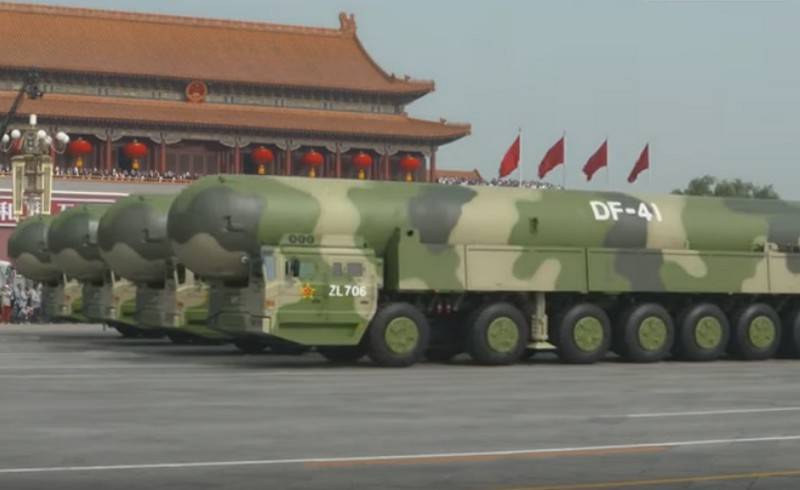 The next flight test of the latest heavy intercontinental ballistic missile DF-41 (Dongfeng-41) was held in China. It is reported by The Washington Times with reference to data received from the Pentagon.
According to the newspaper, a new test of the Chinese ICBM DF-41, capable of carrying several nuclear warheads, was carried out without wide publicity on November 22 this year. This is the first test since the launch of a rocket in May last year. According to U.S. intelligence, the DF-41 ICBM is already on alert, although this has not been officially reported. At the Beijing parade on October 1, China showed 16 mobile systems with this missile.
Admiral Philip Davidson, head of the Indo-Pacific Command of the US Armed Forces, announced plans to continue testing the latest DF-41 ICBM in March this year. Speaking in the US Congress, he said:
Beijing continues to test its mobile intercontinental ballistic missile DF-41, which has a divided individual warhead and a range of up to 9300 miles (15 thousand km)
According to U.S. intelligence, one DF-41 missile can carry from six to ten nuclear warheads. This is the first Chinese ICBM with a separable block; all previous ICBMs were equipped with one powerful warhead.
Earlier in China, it was stated that the DF-41 ICBM could reach anywhere in the United States. The plans of the Chinese military to significantly increase the accuracy of hitting a missile at a target by fully deploying its own Beidou global navigation satellite system.