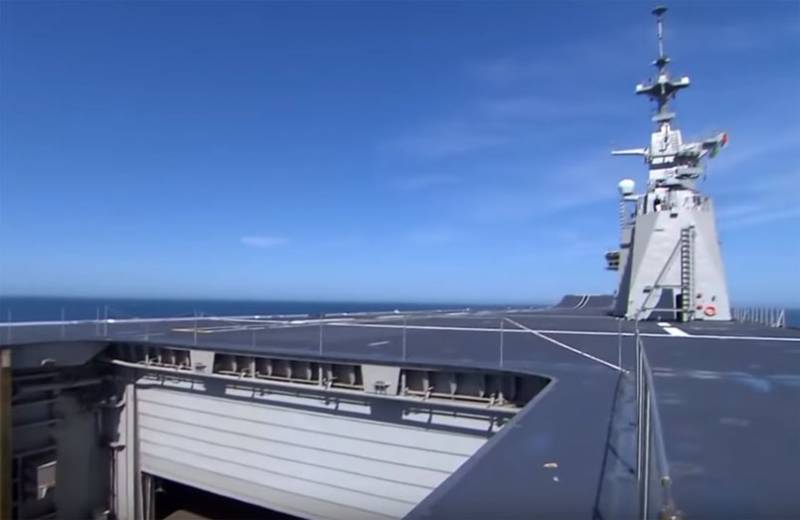 At a recent meeting of the Turkish Navy command, it was announced that the Anadolu aircraft carrier would be put into service with the Turkish Navy in 2020. We are talking about the universal landing ship TCG Anadolu with an aircraft carrier component, which is being built jointly by Turkish and Spanish experts. According to manufacturers, about 68 percent of Turkish components are used in construction.
At the same time, military experts in Turkey note that the command is trying to bypass the topic of serious problems with this UDC.
Initially (when the warship was just beginning to be built), the Turkish Navy did not hide the fact that the main hopes in terms of the formation of its air wing were placed on American F-35B fighters.
Even the first releases contained such statements:
Several aircraft of the F-35B, 4 attack helicopters T-129 Atak, 8 transport helicopters Seahawk and two Anka UAVs can be placed on the deck of the ship.
But, as you know, the United States withdrew Turkey from the fifth generation fighter program, saying that it was "payment for the purchase of S-400 air defense systems from Russia." In fact, we are talking about anti-Turkish sanctions by the United States.
Why did you bet on F-35B in Turkey? It's simple: with the total length of the TCG Anadolu (L-408) in 232, it is suitable for aircraft with a short take-off and a vertical landing. F-35B is just that.
Thus, there is a problem for the Turkish Navy: the UDC will go into operation in the 2020 year, but what should be used as an aircraft part of its air wing? Focus on the AV-8B Harrier II attack aircraft, as on the procurement option (despite the fact that their production has been curtailed) - this is not quite what the Turkish Navy initially wanted. Therefore, by and large, there are two options: either continue to negotiate with the Americans on the F-35B, or at this stage abandon the modern aircraft wing for the Anadolu, turning it primarily into a UDC helicopter carrier. So far, official Ankara has not openly commented on this situation, nor the ways to get out of it.