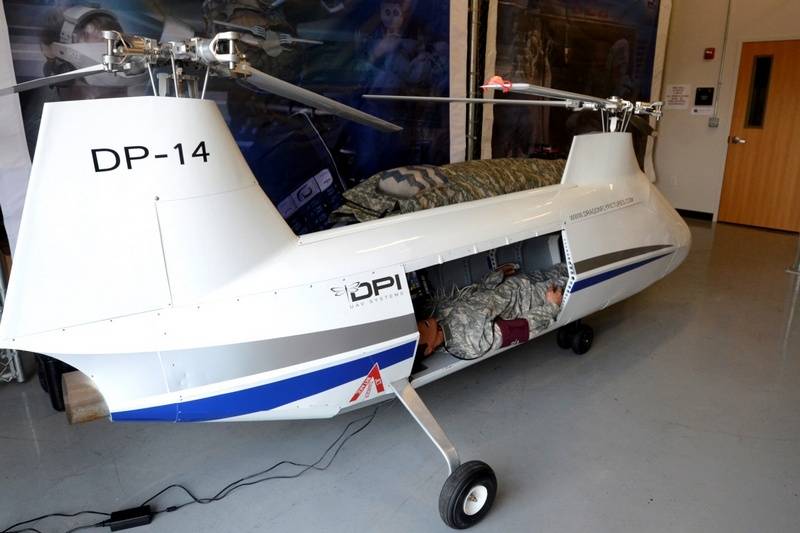 The US Department of Defense intends to soon introduce various medical robots into the US Army units. As transmits
"NPlus1"
The US Army Medical Research and Development Command has requested information about robots that could be used for medical purposes.
According to a published request, the US military will consider various proposals that will contain information about robots of varying degrees of autonomy. The main condition - this robot can be used in the framework of emergency medical assistance to fighters and for the evacuation of the wounded. Models of various classes will be accepted for consideration, including unmanned aerial vehicles, ground-based robots and robotic craft.
Another condition is that the robot presented must be able to work together with people, including following a human-operated device, and provide support to physicians. A medical robot must also have a set of tools for medical diagnosis.
It is indicated that the use of robotic systems of various classes can significantly reduce the load on the soldiers, as well as reduce losses among personnel. Transported robotic platforms will help accelerate the delivery of the wounded from the battlefield to medical posts and hospitals.
Earlier it was reported that in the United States tested a helicopter-type drone Dragonfly Pictures DP-14 Hawk, developed specifically for the delivery of ammunition and the transport of the wounded.
The DP-14 unmanned helicopter is built in a longitudinal pattern with two rotors. In the same way, for example, the American heavy transport helicopter CH-47 Chinook was designed. The mass of DP-14 is 408 kilograms. The device, equipped with a turboshaft engine, can carry loads weighing up to 195 kilograms. The duration of its flight is 2,4 hours. The volume of the transport compartment of the DP-14 is 0,7 cubic meters; It can fit one person.
Dragonfly Pictures DP-14 is capable of speeds up to 105 nodes (about 195 kilometers per hour and fly at altitudes up to 4,6 thousands of meters. The device is expected to be able to fly fully offline.