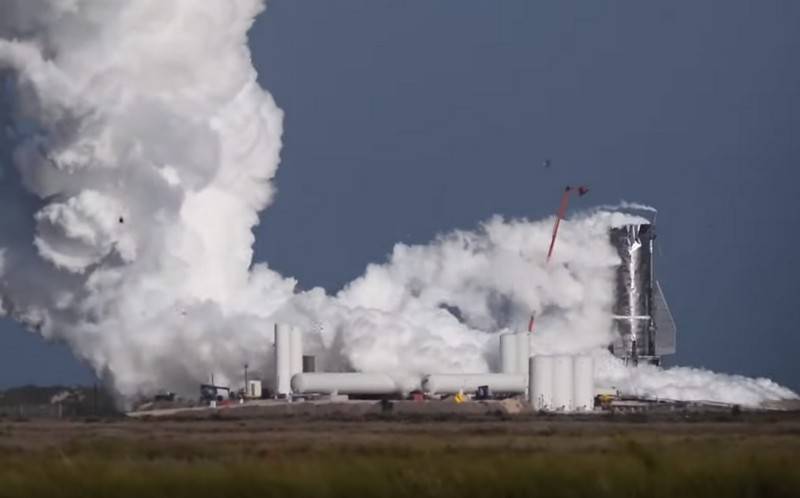 The first full-scale prototype of SpaceX Starship Mk1 exploded during the next test phase. It is reported by NASAspaceflight.
The site, which posted the video of the incident, said the tests took place on Wednesday, November 20 at the Boca Chica test site in southern Texas, owned by SpaceX. The prototype Starship Mk1 spacecraft was tested for maximum filling of the fuel tanks with cryogenic liquid, resulting in an explosion that ripped off the top of the rocket. During the tests, the ship itself was still at the final assembly stage.
The purpose of this test was to maximize the pressure increase in the systems, so this result was not completely unexpected
- stated in the company.
This accident can put an end to the Starship Mk1 rocket and slow down the program for creating a spacecraft as a whole, experts in the space field say. According to reports, the company SpaceX now plans to deal with an improved version of the rocket - Mk3.
Recall that Elon Musk made a presentation of his Starship Mk1 spacecraft at the end of September 2019 and promised to send it into orbit six months later. He promised that the first test flight of the ship will take place in one to two months. In this case, Starship Mk1 will rise to a height of 20 km.
Musk spoke about his ship project and its structure. According to him, in the final version Starship Mk1 will have a height of almost 50 meters, the mass with a full load of fuel is 1400 tons. Equipped with Raptor 37 engines, it will be able to launch up to 150 tons of load into orbit or transport people to 100.
It was previously reported that the Starship spacecraft should become the largest and most heavily manned spacecraft in
stories
. The main purpose of this ship is to deliver colonists to the moon and Mars. In the Starship Super Heavy version, it will be more powerful and heavier than the NASA Saturn V rocket, which delivered the Apollo astronauts to the moon.
The company planned to start commercial flights on Starship in the 2022 year.