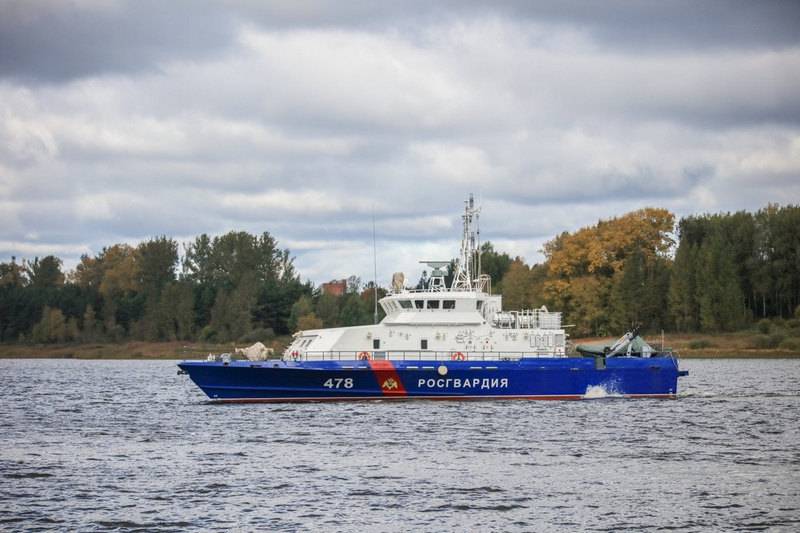 Special-purpose head boat (anti-sabotage) project 21980
The special-purpose boat of the 21980 project (code "Rook") in anti-sabotage design was transferred to the Federal Service of the National Guard Troops of the Russian Federation (Rosguard) for service in Crimea. It is reported
portal
Kalashnikov Media.
It is reported that this Rook is the lead in a series of four boats built at the Vympel Rybinsk Shipyard in the interests of the Federal Service of the Russian Guard under the contract for the supply of four boats for the Kerch Brigade, which guards the Crimean Bridge. The contract was concluded at the end of the 2017 year with the delivery date for the boats by November 1 2019 year.
The boat successfully passed the factory sea trials and fully completed the state testing program, during which it confirmed all the declared tactical and technical characteristics. All other boats of the series have already been launched and are at various stages of testing. The transfer of the entire batch should take place before the end of this year.
A special team of the Russian Guard, created to protect the Crimean bridge, is deployed in Kerch and has a large arsenal of funds designed to prevent sabotage from both water and land.
The 21980 anti-sabotage boat "Rook" is designed to combat submarine sabotage forces and means to support the actions of combat swimmers in the water area of ​​the basing station and on the approaches to it. Able to be autonomously at sea for up to five days with a cruising range of up to 200 nautical miles. Crew - 8 man.
Displacement - about 140 t, length - 30 m, width - 7,3 m, draft - 1,8 m
Full speed - knot 23
Navigation range - 200 miles
Autonomy - 5 days
Crew - 8 man
Armament: one 14,5-mm MTPU machine-gun unit, one DP-64 anti-sabotage grenade launcher, one DP-65 anti-sabotage grenade launcher, four Igla-type MANPADS.
Electronic weapons: NRS MP-231, GAS Kalmar, OGAS Anapa.